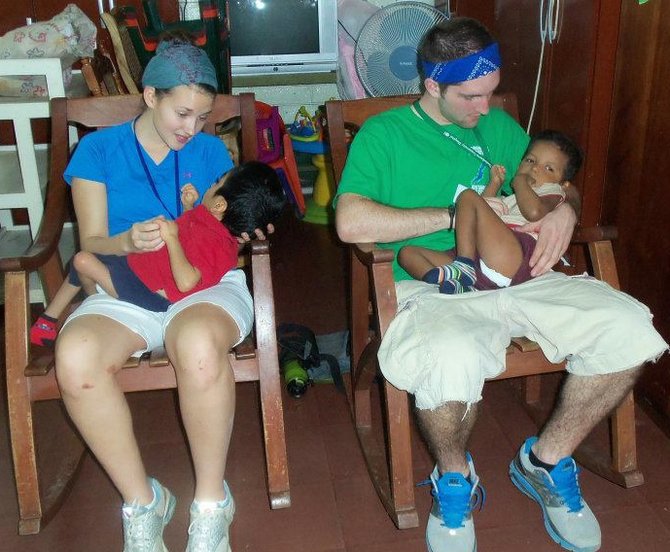 continued — "The students are from various schools," Whitney said. "Some are from the Chiquilistagua public school and some are from the local private schools — colegio niño jesus de praga and nejapa.
"Brody Hooper and I comprise the student portion of the board of leadership for the NCMOH and we are working together to put this event on," she said. "Both of our NHS groups will be setting up, serving and cleaning up for the went as well as providing salad and baked goods."
This is Whitney's second major fund raising effort on behalf of Nicaraguan students. Last year she raised $10,000 by hosting a 5-kilometer run, a hike and a dinner. That money was used to buy lunches for more than 130 children for one school year.
Hunger is rampant in Nicaragua. It is the second poorest country in the western hemisphere; only Haiti has worse poverty.
School lunch is important, Whitney said, because it is often the only food a child receives in day.
"If they don't get lunch at school during the day, odds are they won't get fed every night when they go home," she said. "It is so important that we sponsor these children to assure education and do what we can to assure better nutrition as well.
"I currently sponsor an 11 year-old girl attending Chiquilistagua Publico named Izayanna," she said. "The lunch we can buy for the students will vary from meals such as tortilla bread and cheese, or soup, or oatmeal-like drinks. These meals are very simple and they emphasize fruit and protein, which is what most children lack most in their diets."
A spiritually-based humanitarian organization, the North Country Mission of Hope is committed to fostering hope and empowering relationships with the people of Nicaragua through sustainable programs in education, health care, community and ecological development. It began in 1998 by responding to the devastating effects of Hurricane Mitch on the impoverished villages of Nicaragua.
Vote on this Story by clicking on the Icon