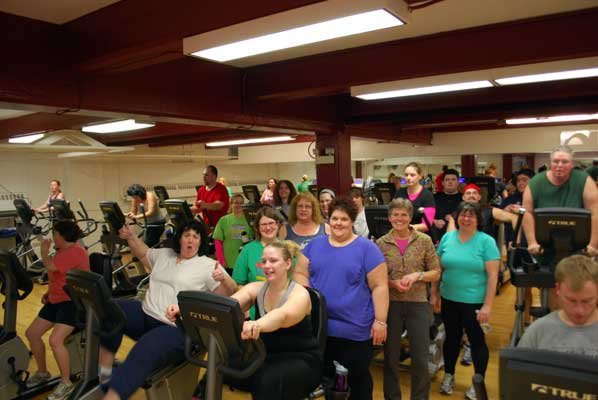 If the sparkle you see in MARY DUPREY'S eyes is any indication of the energy and passion she puts into PLATTSBURGH'S BIGGEST LOSERS, her participants better watch out; their lives are about to change!
We visited the City Recreation Gym last week and were blown away by the camaraderie, determination and results of this program. Based on the NBC reality show, Plattsburgh's Biggest Loser, directed by Mary Duprey, combines exercise, nutrition and accountability into a very successful weight loss and life changing program.
Biggest Loser begins each fall with an application process. Forty to 50 applications are received by program coaches and collectively they choose the top 25. High blood pressure, diabetes, family history of obesity, heart disease, joint replacements, depression, inability to lead an active family life and infertility are just a few of the physical and emotional reasons that people give as to why they want to participate. Candidates are carefully chosen; weight loss is one factor for consideration; but primarily by candidates having the commitment to creating a healthy life.
The six month program kicks off with the Heart Walk. Following the Heart Walk, the bonding begins – group members weigh in and each participant shares the story of how they came to be part of The Biggest Loser's Club. Biggest Losers continues with two workouts a week sprinkled with guest speakers on nutrition, fitness, and inspiration. Workouts have great variety and a fun flair such as the number of crunches equals the combined age of the group! Some members of the group join to regain mobility after an injury or illness; some members have permanent physical limitations. The point is to move as you are able.
PSUC faculty and staff provide nutritional consultation. Members have created a private Facebook group and this connection keeps them engaged with optional activities in building the habits of an active lifestyle. Certified personal trainers and past participants are the coordinators and leaders, providing creative expertise and active weight loss role models. Jenn LeCuyer serves as the program coordinator for "Walking the Walk." She has lost 70 pounds and her husband, Jamie, is an "honorary" member, having lost 170 pounds! So far, the biggest loser in their program has lost 110 lbs!
(Continued on Next Page)
Prev Next
Vote on this Story by clicking on the Icon