Last year, when the ponds were free of ice by April 1, I was taken by surprise, as were many veteran anglers. Although trout season has historically opened statewide on the first of April, it was rare that Adirondack anglers ever had a chance to fish for trout on an ice free pond, or on a river that wasn't raging with spring melt.
Incrementally, the Adirondack trout season has continued to inch closer and closer to an April Fools opener. Anglers seeking trout on the ponds at ice out, should plan accordingly.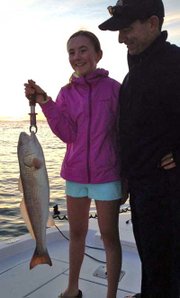 "I thought it was going to pull me in."
I've always been a strong advocate for getting kids involved in the outdoors, whether hiking, fishing, skiing or hunting.
And I subscribe to the old notion that is your kids hunt or fish with you; you'll rather have to go hunting after them.
Sharing outdoor adventures creates a unique bond among participants, which lasts longer, and stays stronger than almost any other activity they may share.
I suppose it comes as a result of a shared trust, and the confidence that fellow travelers place on their companions. It may also come from the sharing of responsibilities and the excitement of discovering and dealing with the ever unpredictable, nature of nature.
Such was the case when Cassie Bullis, a 7th grader at Seton Central in Plattsburgh recently joined her Uncle Rocky and Aunt JoAnn LaGrone for a fishing trip near Clearwater Beach, Florida.Clearwater Beach Florida.

As an avid advocate for getting kids involved in the outdoors, Cassie's story intrigued me.
I'm a firm believer in the theory that a fishing rod is the best X-Box detox tool ever invented.
I've seen it happen, and the reality of having a live fish on the end of a line; always trumps the virtual reality of staring at an electronic screen.
Joe Hackett is a guide and sportsman residing in Ray Brook. Contact him at brookside18@adelphia.net.
Vote on this Story by clicking on the Icon