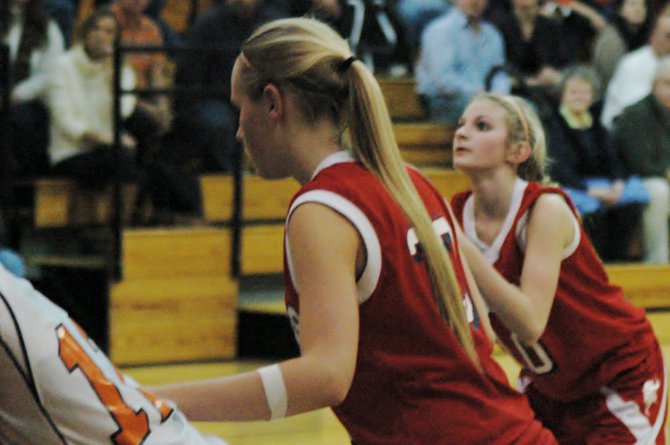 continued — "It was completely overwhelming to hit those," Cross said. "I practice them every day and I was not hitting much tonight, so there was a lot of pressure. Once I sank the first one, it was so much easier on the second."
With a very balanced scoring attack, Slattery scored eight points to go with six rebounds, while Stahl had six points, five rebounds and three blocks, with Pelkey adding six points, six rebounds and three steals. Cross finished with her five fourth quarter points along with three rebounds, while Sprague had four points and three boards; Caitlin Pelkey scored three points to go with three rebounds, three assists and two steals; Haley Snyder scored two points and dished out three assists; and Sammi Ida added a rebound.
For the Orange, Abby Darling scored nine points to go with seven rebounds, while Jessica Bain added eight points and 10 rebounds; Shannon Farrell scored seven points to go with three assists and three steals; Meg Smith scored five points and grabbed four rebounds; Sydney Hinckley added one points and two rebounds; with Morgan King grabbing two boards.
The third seeded Vikings will play Elizabethtown-Lewis Friday, March 1, at the Plattsburgh State Fieldhouse at 4 p.m.
"I'm really excited," Stahl said. "This has been my goal since the beginning of the season. I think having been their last year and winning the Class C title will give us some confidence that will hopefully pay off."
"It is nice to be going back with championship experience," Coach Pelkey said. "I am not sure what the rest of the league expected from us this year, but I know that I had high expectations."
Vote on this Story by clicking on the Icon