Clintonville — In a rare matchup between two defending Section VII champions, the former Class C champ used a strong press to wear down the defending D champ.
The Moriah Lady Vikings outscored the Indian Lake/Long Lake Lady Orange 13-3 in the final eight minutes of the game to score a 34-30 win in the sectional semifinal round Feb. 26 at AuSable Valley High School.
"I thought that they did a great job," Vikings head coach Steve Pelkey said after the game. "I knew that they were not deep and we tried to wear them out as the game went on. Defensively, we picked up the intensity in the second half."
"We starting switching on their screens defensively and stepped up the intensity," Madison Stahl said. "We started running a lot more in the second half."
"We knew that we needed to move more on offense and we were able to make our cuts and get to the ball," Lauren Pelkey said. "We had never seen the 1-2-2 defense that they played against us and it took us a while to adjust."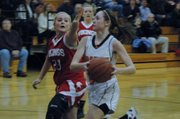 The Vikings entered the third quarter trailing 27-21 after falling behind by as many as nine points late in the third quarter before Pelkey hit a three-pointer late in the stanza.
Lauren Cross then opened the fourth quarter with a three-pointer to cut the Orange lead to three. Taylor Sprague then connected on a pair of free throws to trim the lead to one at 27-26 with 4:49 remaining. On their next offensive possession, Sarah Slattery grabbed an offensive rebound and drew a foul on the ensuing shot, connecting for two as well as the free throw to give the Vikings a 29-27 lead.
The lead hovered around two points until Cross was fouled with 12.8 seconds left and a 32-30 lead. Cross stepped to the line and made both ends of a 1-and-1, giving the Vikings the four point advantage they would win by.
(Continued on Next Page)
Prev Next
Vote on this Story by clicking on the Icon