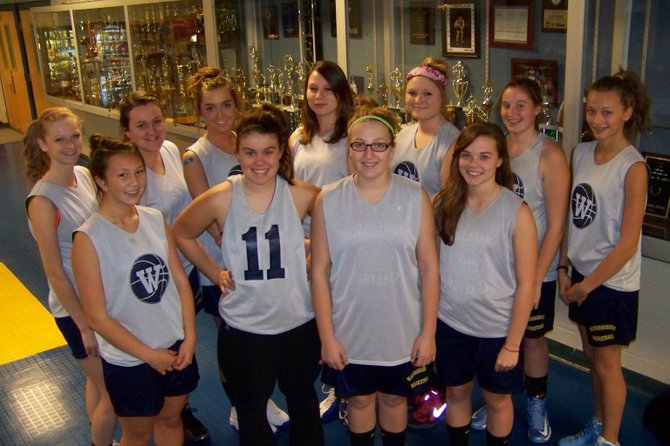 Fort Edward — The Warrensburg Girls Basketball team advanced to the Class D Section II semifinals with a hard-fought win Friday Feb. 22 against Northville.
With vocal fans supporting them in their game held in Fort Edward, the fourth-seeded Burghers combined aggressive play with a savvy game plan to achieve the 58-42 victory over the 5th-seeded Lady Falcons.
The Burghers had a game plan of a diamond-one defense that pitted Senior Korynn Raymond against Northville's top scorer, Lindsey Wadsworth, and the remainder of the team executed a zone defense. The Burghers forced turnovers in the process, giving them a 6-0 start within the first few minutes. Balanced scoring from all over the court and attacking inside resulted in a 27-13 margin at halftime despite Northville fighting back with a full-court press. The diamond-one strategy caught Northville off-guard, as Wadsworth, who averages 16 points per game – was held to one point at the half.
In the second half, Northville retaliated with a 15-2 scoring run, in which Wadsworth hit nine points. But Junior Mika Morehouse and her teammates, in charging to the basket, got Wadsworth and her teammate Abby Moore in foul trouble. With the two players benched, the Burghers took advantage, executing a 10-2 run -- leading to a 39-30 score at the end of the third stanza.
But Northville wouldn't quit.
Wadsworth led Northville's final charge, with consecutive 3-pointers and several free throws, narrowing the Burgher lead to merely one point.
The Burghers, however, responded to the challenge.
Morehouse stepped up her aggressive inside play, and teammate Erin Langworthy stole the spotlight, beginning with a pair of 3-pointers and a layup off a stolen ball, which gave the Burghers a five-point margin with about five minutes left to play. Langworthy, the hard-charging Freshman sensation, scored 13 of her game-total 24 points in the fourth quarter, and a total team effort put the game out of reach for the Lady Falcons. Morehouse scored 17 in the game, and sophomore Liz Turner tallied eight.
(Continued on Next Page)
Prev Next
Vote on this Story by clicking on the Icon