Gabe Macey had eight points for the Panthers, while Jon Spaulding scored six. The Eagles will play top seed Schroon Lake Feb. 27 at 7:30 p.m. in Clintonville (AVCS).
Class D girls
The second seeded Indian Lake/Long Lake Lady Orange used a 20-11 third quarter to push out to a comfortable lead in beating the Westport Eagles, 56-32, Feb. 22 in the Class D quarterfinal round.
Shannon Farrell paced the Orange with 20 points, while Meg Smith and Abby Darling each scored 12 points, Sydney Hinckley added six, Jessica Bain four and Ronya Hamdan two.
For Westport, Brendee Russell ended her junior campaign with 17 points, while Megan Sudduth added five. Emily Rascoe and Sarah Looby each scored four points, while Felicia Kurth added two.
Photo Gallery
Moriah v.s. Willsboro girls basketball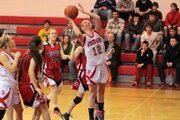 Section VII Quarter Final Class D Girls Basketball
The Orange will play third seeded Moriah Tuesday, Feb. 26, at 6 p.m. at AuSable Valley High School. The Vikings advanced with a 54-25 win over the Willsboro Lady Warriors Feb. 22.
Madison Stahl led the Vikings with 16 points, while Cailtin Pelkey scored nine.
For Willsboro, Amanda Mahoney had 11 points, while Andrea O'Hara scored eight, Kyli Swires four and Renee Marcotte two.
Vote on this Story by clicking on the Icon