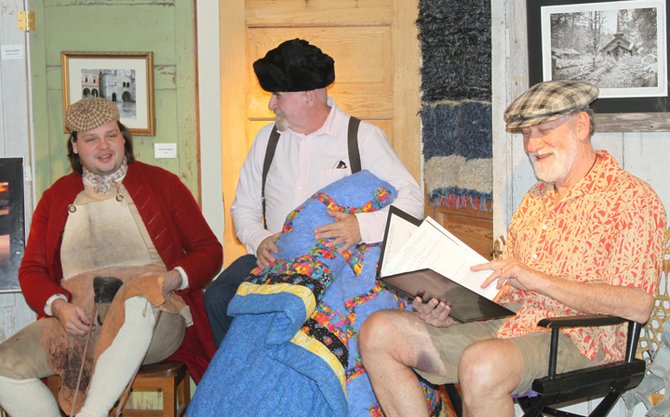 continued — Two weeks of cultural events and activities — dubbed MArts Madness — have been planned by the Cultural Arts Initiative of the Ticonderoga Area March 2-17.
Highlighting MArts Madness will be the opening of a new gallery.
STUDIO 117, located directly next to The Downtown Gallery in Ticonderoga, will open Saturday, March 2, with a reception and art show 5 to 10 p.m. Sculpture, painting, photography, jewelry, furniture and more will be shown and be for sale. The show will continue through March 17.
Participating artists include June Borho, Jessica Chevelier, Tonya Whitford Condon, Tavish Costello, Matt Gregson, Skye Gregson, Brad Peria, Willa Shakeshaft and Crispin Shakeshaft.
Other MArts Madness events include:
— March 2, 1 p.m., reception at The Black Watch Memorial Library for the opening of a quilt show co-sponsored by The Ticonderoga Heritage Museum. The quilt show will run through March 17;
— March 2, 7 p.m., Ticonderoga High School Sentinel Productions presents "Fairy Tale: The Ever After" by Kevin Stone at the Ticonderoga High School auditorium;
— March 3, 3 p.m., a concert by Towne Meeting at the Best Western Inn, sponsored by the Ticonderoga Festival Guild;
— March 3, 2 p.m., Ticonderoga High School Sentinel Productions presents "Fairy Tale: The Ever After" by Kevin Stone at the Ticonderoga High School auditorium;
— March 9, Fort Ticonderoga North Country History Day;
— March 9, 7:30 p.m., The Downtown Gallery will host a production of "Love Letters" by A.R.Gurney with Kathy Recchia and Vincent Smith;
— March 10, 3 p.m., The Downtown Gallery will host a production of "Love Letters" by A.R.Gurney with Kathy Recchia and Vincent Smith;
—March 12, 5:30 p.m., the Ticonderoga Area Chamber of Commerce will host a presentation on the "Way Space Affects Our Behavior and Productivity" by VMS Design;
— March 14, 4 p.m., the Black Watch Memorial Library will host a lecture on "The Cheever Mines" by Jim Davis;
Vote on this Story by clicking on the Icon