"We got a lot of easy points off of our press, we just could not get it going for long stretches," Silvernail said.
"I told the kids not to dribble the ball to the corners, and they would do just that," Tyler said. "Once we started passing to beat the zone instead of dribbling, the press did not affect us as much."
The Eagles cut the lead to 24-20 at halftime and took a 31-29 lead midway through the third quarter. The Wildcats then scored the next four points of the stanza before Mero connected on a jumper in the paint as the quarter buzzer sounded.
Silvernail said that while it was not the game he expected, it was a game his team could learn from.
"I do not think that it can hurt as long as you win these close games," he said.
Along with 21 points, Jesse Shaughnessy finished with seven rebounds, five assists and eight steals. Alex Shaughnessy added 15 points and two assists, while Tanner Stone scored six points to go with three rebounds and a trio of steals; Bobby Ross had five points to go with three rebounds and two assists; Caleb Maisonville had two points and two rebounds; Jeff Armstrong one point to go with eight rebounds; and Joe Maisonville added a pair of steals, both in the critical fourth quarter.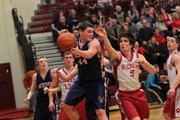 For the Eagles, the tandem of Mero and fellow freshman Sam Napper combined for 10 of the Eagles 13 points in the key third quarter. Mero finished with six points, four rebounds and three assists while Napper had 12 points, five rebounds and three steals.
"They have been huge," Tyler said about his two mid-season call-ups in Mero and Napper. "When they first came up I told them that they were going to play and every game they have just gotten better and better. The potential with them and this whole team is right there."
Junior Ryan Davis led the Eagles with 13 points, 11 rebounds and four assists.
"Ryan is our captain for a reason," Tyler said. "He is not a vocal captain, but he leads by example."
Jonathan Gay added seven points, two assists and four steals, while twin brother Anderson Gay connected on a shot clock-beating three pointer to go along with two rebounds. John Doyle scored two points and grabbed a pair of boards, while RJ King had a rebound and steal.
Vote on this Story by clicking on the Icon