After defeating the reigning Section VII/Class D champion Willsboro, the Westport Eagles had the goal of ousting the top seed and fourth-ranked team in the state.
Photo Gallery
Schroon Lake v.s. Westport boys basketball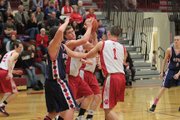 Section VII Quarter Final
Thomas Mero hit a buzzer-beater to tie the score at 33-33 to end the third quarter with Schroon Lake Feb. 22 in the Class D quarterfinal round, setting up a last eight minutes where the Wildcats would have to prove their championship worthiness.
They were able to do that in advancing to the Class D semifinals with a 50-43 win.
"We needed to pick up the energy and play a little bit smarter in the fourth quarter," Wildcats (19-0) head coach Lee Silvernail said. "We were able to relax, come out and play hard."
Senior Jesse Shaughnessy scored 11 of his game-high 21 points in the final quarter, including three points that resulted when he stole the ball with 22 seconds remaining, drove to the basket and drew a foul on a layup for an old-fashioned three-point play.
"I was not going to let our team lose this game," Shaughnessy said. "We were not going to let the upset happen. You have to give Westport credit. They are a young team with nothing to lose."
Westport (11-8) head coach Michael "Ike" Tyler said he was very proud of the way his team, seeded eight in the tournament, handled themselves.
"I cannot be more happy with the team," Tyler said. "We made some young, mental mistakes, but we did not go away and we gave the fourth-ranked team in the state all that they could handle. Jesse's strength just took over in the last two minutes and we did not have an answer."
The Wildcats jumped out to a 21-13 lead midway through the second quarter due in large part to their three-quarter court 1-3-1 press.
(Continued on Next Page)
Prev Next
Vote on this Story by clicking on the Icon