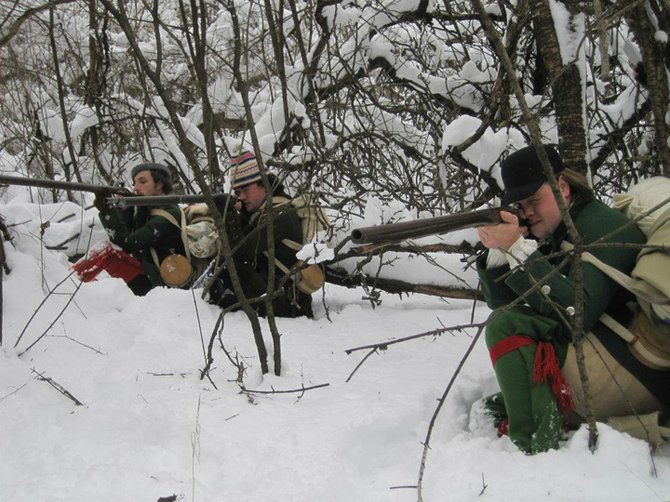 continued — In March 1758 Maj. Robert Rogers and his men headed north from Fort Edward along Lake George on a scouting mission. Hiking on snowshoes due to the three feet of snow, the tracks of Roger's force were spotted on its march up the west side of Lake George. Near the north end of Lake George, Rogers' advanced scouts spotted their French counterparts. Rogers and his Rangers took up positions in a ravine, setting his force in ambush to await whatever French patrol would come to meet him.

"The French patrol that met Roger's men proved far larger than he imagined, and in this Battle on Snowshoes, the rangers' ambush was itself surrounded and overwhelmed," Lilie said. "In deep woods on deep snow, the rangers were forced to retreat with heavy casualties as the French regulars, malice and natives pressed home their attack. Despite brave stands along the way, this retreat quickly became chaotic as rangers, Rogers' included, ran for their lives from superior numbers of French."
At 10:15 a.m. there will be a guided tour of Fort Carillon, followed at 11 a.m. by a tour of "Petite Guerre in the North Woods."
At noon there will be program on the French and Native American alliance, followed at 1:15 p.m. by another tour of the fort.
Following the 2 p.m. battle recreation, Chris Fox, curator of collections at Fort Ticonderoga, will examine real artifacts recovered from the ruins of Fort Ticonderoga at 2:30 p.m. From weapons to practical tools, and even personal comforts, people can see objects left behind by the French soldiers, native warriors and Canadian malice.
Another tour of the fort at 3:15 p.m. will conclude the day.
Vote on this Story by clicking on the Icon