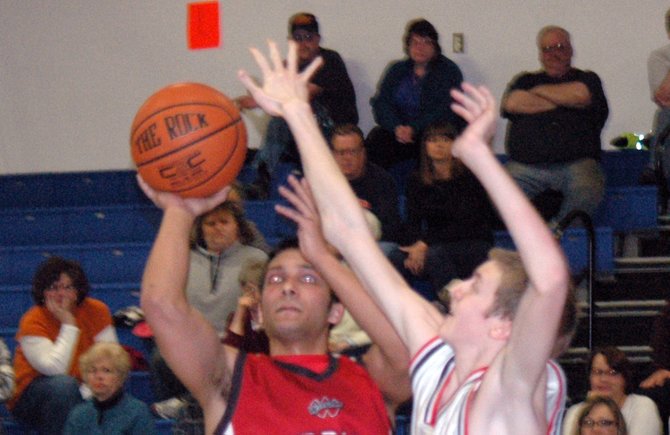 continued — "Anderson picked it up in the second half, and Jonathan played great against Indian Lake/Long Lake and continued that tonight," Tyler said.
Anderson Gay finished with 14 points and 10 rebounds, while Jonathan scored seven points. The Eagles were led by Ryan Davis, who scored 15 points to go with 13 rebounds.
"Rebounding was something that we stressed," said Davis about the Eagles' 36-23 edge on the boards, including a 14-4 advantage on the offensive glass.
"We have had a hard time with boxing out all year but we had been getting better," Spring said.
Sam Napper added five points for the Eagles, while RJ King scored two. Thomas Mero led the team with five assists and two steals.
For the Warriors, who finish their season at 7-12, Nick Arnold returned after missing almost a month with a leg injury to score 10 points to go with three assists, two steals and five blocked shots.
"He practiced for us the day before the game and that was the first time he had been on the court since he got hurt," Spring said. "It was nice to have his leadership back."
Brandon Porter scored 15 points and grabbed six rebounds for the Warriors, while Jarrid McVicker and Zach Pierson each scored four points and Seth Swires added three points to go with 10 rebounds and three assists.
The Eagles (11-7) will next play Schroon Lake (18-0), the fourth ranked team in the state who swept Westport in the regular season.
Keene falls
The Chazy Eagles used a 21-5 third quarter to open up a large lead against the Keene Beavers in the opening round of the Class D playoffs Feb. 20, cruising to a 59-30 win.
Colton Venner led the Beavers with 10 points, followed by Austin Brown with nine, Brandon Dumas with 6, Gabe Warner with three and Maxx Sturgess with two.
Keene finished the season, its first in three years as a varsity program, with a 2-16 record.
Vote on this Story by clicking on the Icon