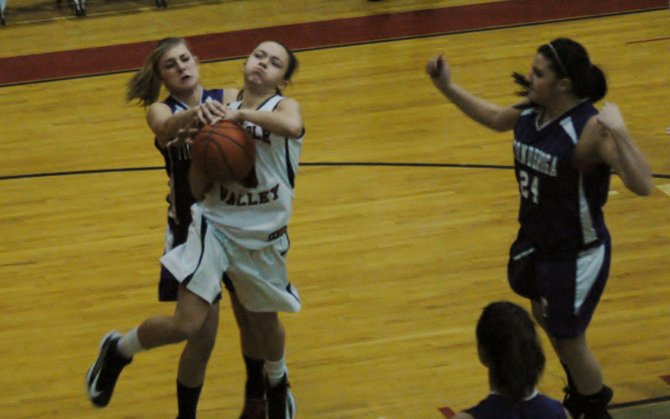 Beekmantown — The upset alert was sounded Feb. 21 as the Ticonderoga Lady Sentinels headed into the locker room with a 15-14 halftime lead over top-seed AuSable Valley in the Section VII/Class C semifinals in Beekmantown.
However, that siren was short-lived as halftime gave the Lady Patriots and sharp-shooter Meghan Strong regroup, outscoring the Sentinels 26-2 in the third quarter en route to a 51-25 victory.
"We had a motivational speech that was less about x's and o's and more about about energy and desire," Patriots head coach Roger Long said. "When Meghan hit a three-pointer at the start of the third quarter, I felt good after that went in. That broke the dam for us."
In the third quarter, Strong scored all of her 11 points in the game, connecting on a pair of three points, a layup and three free throws. The team accounted for 26 points, 11 rebounds (five offensive), six assists, eight steals and one blocked shot, while Ticonderoga had two points, five rebounds (two), one assist and two steals.
"We played really good defense and rotated well in the first half," Sentinels head coach Shelley Young said. "We hit the boards real strong and did a nice job breaking their press. In the third, I think we just ran out of gas and they hit the gas pedal. I am very pleased with the effort, because they beat us twice and we were able to put a scare in them.
The Patriots trailed 10-6 after the first quarter and 15-14 at halftime.
"We did not come out as strong as we wanted," Strong, who finished with four assists and two steals to go with her 11 points, said. "Taylor Saltus and Logan Snow were strong and we got a good pep talk at halftime that got our confidence up. I was proud of the team. We knew we wanted to win and keep playing."
(Continued on Next Page)
Prev Next
Vote on this Story by clicking on the Icon