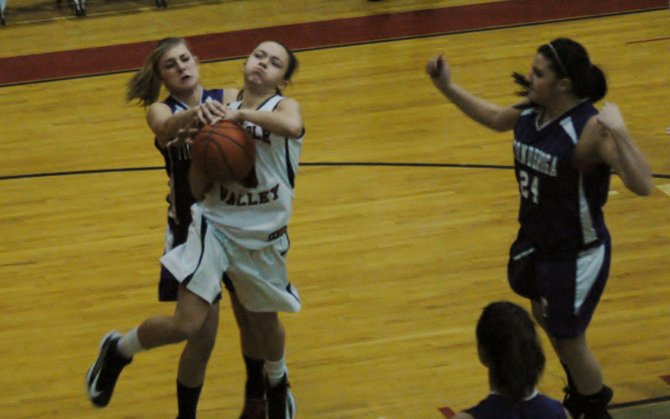 continued — Saltus carried the Patriots in the first quarter with five of her game-high 12 points. She also finished with seven rebounds (five offensive), three assists and 11 steals, six coming in the third quarter run.
Snow, meanwhile, was crucial in the second quarter, scoring four of her nine points and grabbing six of her game-high 13 rebounds (seven offensive). She also contributed four steals.
"We were doing good in the first half, but we were still struggling to score," Snow said. "Once they started falling, we were able to gain the confidence. I was calling for the ball early, but then I got in foul trouble."
"Logan and Taylor were very aggressive on the ball," Long said. "Logan was always around the glass and the ball early."
JV call-up Madison McCabe added eight points and two rebounds for the Patriots, while Madison Rondeau added seven points and five rebounds, Sierra Snow scored two points to go with six rebounds (four offensive) and three steals. Sydney Snow, another call-up. had two points and two rebounds, while Haley Taylor added four rebounds and Bryce Douglass had an assist and block.
For the Sentinels, Andrea Rich scored 11 points to go with four rebounds, two assists and three steals. Kylie Austin scored six points and added 10 rebounds, while Tiffani Purkey scored five points with a rebound and Meg Campney scored three points and added three rebounds. McKenna Kelly and Lesli Moore each had a pair of rebounds, with Moore adding two assists and a steal.
The Patriots advance to the Plattsburgh State Fieldhouse for a Friday, March 1 Class C championship matchup with Northern Adirondack, who defeated Seton Catholic in the other semifinal.
Vote on this Story by clicking on the Icon