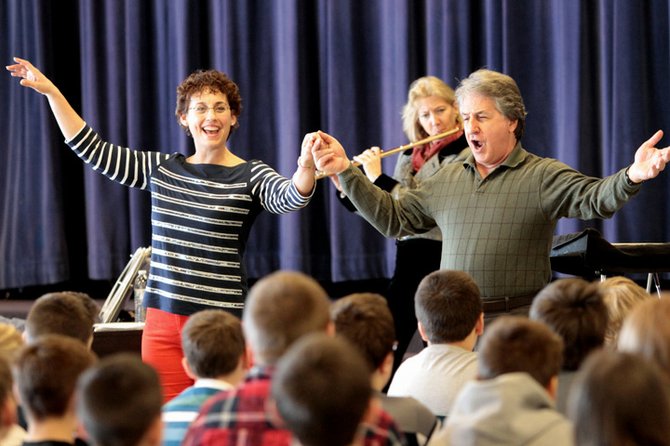 continued — "We've already asked them to come back next year," Donohue said. "They've been great fun and almost everything they've done relates to our curriculum."
It certainly was fun at the Ti Middle School. Students were involved throughout.
While singing George Gershwin's "Embraceable You" Cimino began waltzing with a teacher, peering into her eyes as students laughed in approval. While singing "Popular" from the play "Wicked" Sabin offered students tips on gaining popularity — pointing out they'll never be as popular as she is.
"We set the stage for moments of more outward discovery, connecting concepts in science with the physics of music, musical traditions with social issues and world history, excellence in athletics with excellence in the arts and in life," Cimino said. "Discoveries such as these can be eye-opening and refreshing, even stunning, but unless they are harvested, validated and distilled for their meaning, they can fall by the wayside and lose their potency."
Wayne Chagnon, Ti elementary school music teacher, said The Learning Arts program provided students with an opportunity to experience top-flight performers close to home.
"I've been so impressed with the music at our school the past few weeks," Chagnon said, also refering to visit by Blues musician Guy Davis earlier. "Our students have had opportunities seldom found in the North Country."
The Learning Arts visit to Ticonderoga was free to the school. The cost of the three-day program was covered by an anonymous donor, Donohue said.
Vote on this Story by clicking on the Icon