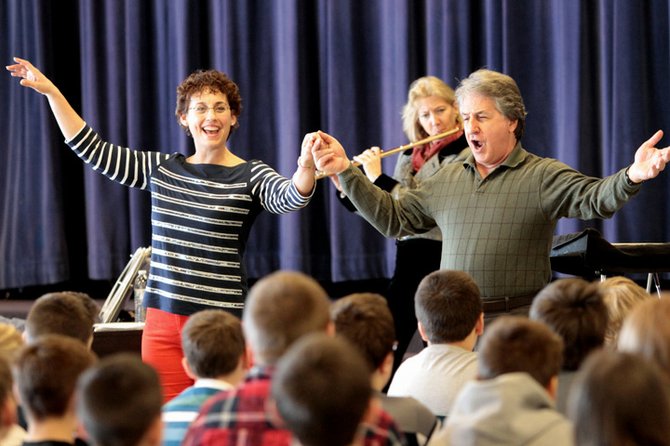 Ticonderoga — The Great White Way came to Ticonderoga Middle School recently.
That's when The Learning Arts, a collaboration of music and education professionals, presented "Broadway and Carnegie Hall" to students.
Performing show tunes from Broadway musicals such as "Oklahoma," "Thoroughly Modern Millie," "Wicked" and others the artists entertained and taught.
"They're phenomenal," John Donohue, Ti K-8 principal, said of The Learning Arts. "It's a great opportunity for our kids to enjoy these professional artists. It's a wonderful learning experience."
Besides performing, members of The Learning Arts did workshops with students that incorporated science, English, math, history and art.
The Learning Arts team spent three days in Ticonderoga — one at the elementary school presenting "Music for the Imagination," one at the high school presenting "Freedom and Imagination in the Jazz Age and Beyond" and at the middle school.
"My colleagues and I from The Learning Arts come to you as teaching allies, partners in the enterprise of educating and growing our children," John Cimino, leader of the troupe, told Ti teachers. "Our contribution is that of a catalyst, a spark from the outside world to add fresh energy to the learning you facilitate and inspire everyday.  
"Our medium is the arts, and very particularly, music," he said. "But our goals and methodology reach well beyond music and the arts to life skills and virtually every discipline in the school curriculum.  As catalysts, we accelerate learning's hidden processes and facilitate connectivity across the disciplines.  We nurture imagination, creativity, empathy and curiosity and help students to look inward for self-discovery and reflection."
Joining Cimino were pianist Tom McCoy, flutist Donna Wissinger, singer Lisa Sabin and percussionist Kyle Ritenauer.
Cimino studied biology and physics at Rensselaer Polytechnic Institute before studying music at the Juilliard School of Music. An operatic singer, he has performed at the White House and the United Nations. He has sung with Luciano Pavarotti.
(Continued on Next Page)
Prev Next
Vote on this Story by clicking on the Icon