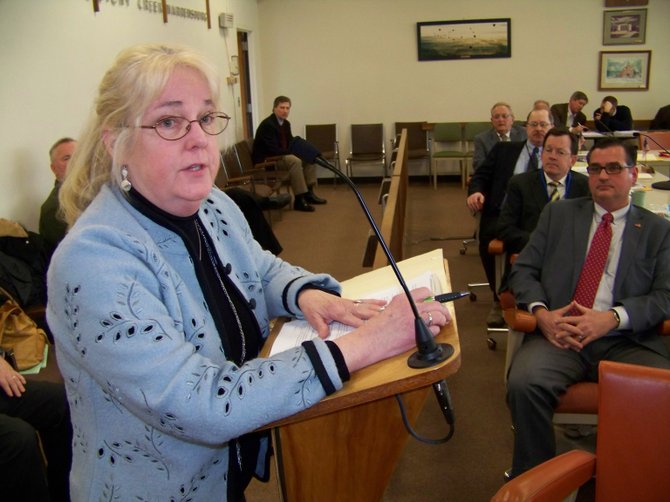 continued — County and local municipal officials have recently renewed discussion studying the regional impact of casino gambling, following Gov. Cuomo's speech last month suggesting that three destination casinos could be located upstate.
Proponents of siting a casino in Lake George have mentioned a price tag of about $1 billion for developing a full-fledged destination attraction that would provide jobs and economic expansion. Opponents of the concept have warned of the negative consequences of a gambling casino on family life, area crime, traffic, social services and infrastructure.
Gavin told the supervisors that instead of pursuing gambling casinos, county leaders should be encouraging other avenues of economic development, including promoting residential growth and enhancing mass transit — both in the light of the pending expansion of GlobalFoundries computer chip campus in Malta, with 1,000 more high-paying jobs envisioned. The new plant, expected to produce semiconductor chips for the booming market for mobile electronic devices, is anticipated to prompt a considerable demand for upscale housing in a region that includes Warren County.
Gavin noted that GlobalFoundries' Malta chip plant has been named as a possible site for the production of semiconductors used in Apple Computer's products.
Area economic officials have speculated that whether the chips are for Apple or another mobile device manufacturer, dozens of other high-technology firms could be drawn to the area, creating many more jobs and an even greater demand for housing.
She noted that employees at the computer firms would be attracted to live in Warren County and in the town of Lake George due to the area's natural beauty, and amenities such as the new Charles Wood Park, rather than a casino.
"Let's concentrate on what means most to us in the Adirondacks," she said.
Gavin, one of the founders of the Lake George Citizens Group, was pivotal in the 2011 defeat of three Lake George Town Board members — Republicans who were replaced by three candidates affiliated with her organization.
Vote on this Story by clicking on the Icon