continued — While McCormick won his titles in relatively easy fashion, junior Gavin Friedrich had a race on his hands in the 500 freestyle from the gun, pacing himself with Plattsburgh High's Matt Evans.
Entering the event, the two swimmers were only separated by .03 seconds when looking at each other's personal best times, with Friedrich holding the lead. There was not much change in that gap, as Friedrich out-touched Evans by a eye-blinking .16 second to earn his first sectional title with a time of 5:38.28, making it the fifth straight year and AuSable swimmer had won the 500 free.
As soon as I touched the wall, I looked up to my lane on the board and saw the "1" next to my name — I was really excited," Friedrich said. "It was back and forth the entire race and I knew that I would have to give my best to win."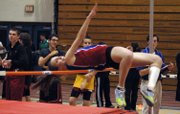 Friedrich said he was proud to continue the Patriots winning ways in the 500 meter, which was won the past four years by Ben Ford.
"Ben helped me out a lot," he said. "Hank (McCormick) has also helped me out a lot getting me better and working on my stroke."
Friedrich said that the next two weeks are about working on conditioning and getting "a little bit better."
Indoor track and field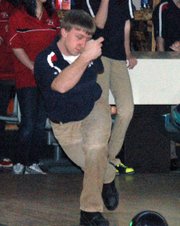 Paul Ford earned a repeat sectional championship as he won the high jump at the Section VII Championships Feb. 9 with a leap of 5 feet, 8 inches in a jump-off tie breaker. He also finished fourth in the 55-meter hurdles in 8.9 seconds. The 640m relay of Ford, Jacob Ashline, Ridge Perkett and Jonathan LaDieu also had a strong showing as they finished third in 1:25.3, a new best time for this group.

For the Lady Patriots Ashlee Estes won the girls high jump title with a leap of 4 feet, 7 inches. Rachel Ford established a personal best in the 1500m run in 5:56.1. Rachel also edged her previous best in the 1000m run in 3:54.2.

Vote on this Story by clicking on the Icon