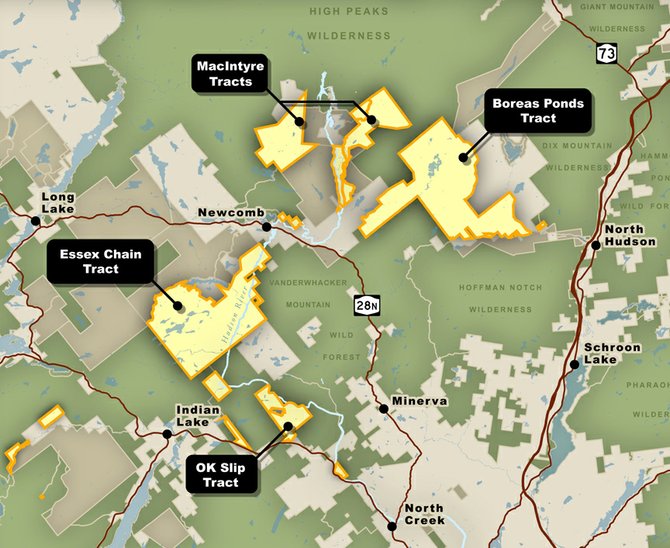 Indian Lake — State Department of Environmental Conservation (DEC) Region 5 Director Bob Stegemann and Region 5 Natural Resource Supervisor Tom Martin and were on hand at the jam-packed Indian Lake Town Hall Thursday, Feb. 7 to present the DEC's ideas for land-use classification for the former Finch Pruyn lands in this area.

The state's first leg of the 69,000-acre purchase — in December — from the Nature Conservancy was for about 18,000 acres, costing taxpayers about $12 million. Now it is part of the Forest Preserve and needs classification from the Adirondack Park Agency (APA) so it can be managed by the DEC.
The parcel includes the Essex Chain of Lakes and land along the Hudson, Cedar, Indian and Rock Rivers. It also contains lands of some 20 private fishing and hunting club leases, including the historic Gooley Club.
With the state purchase, these leases will expire and force the clubs closing. For many in Indian Lake and other areas of the Central Adirondacks, these clubs are purported to have large contributions to the local economies. Their disappearance is said to raise yet more challenges to the economic well-being of the towns surrounding the parcel.

There were many and varied interests and concerns among the audience Feb. 7, but the central concern was that the ideas presented by DEC limited access to much of the parcel from the south via the Chain of Lakes Road.

Many pointed out that the DEC's ideas strongly favored the economic well-being of the towns to the north and made the parcel and its recreational opportunities difficult to access from Indian Lake to the south.

The presentation indicated that motorized access would end in a parking area in the midst of a "wild forest" designation along the road. If followed further, the road leads to a tongue of an area that would be designated as "wilderness" and therefore motorized access down the remainder of the road across this wilderness tongue would not be feasible.
(Continued on Next Page)
Prev Next
Vote on this Story by clicking on the Icon