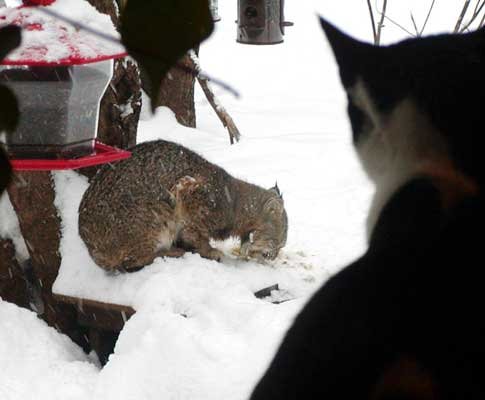 Lake Champlain has not been frozen completely since March of 2007, although there is now safe ice over much of the lake.
As most hard water enthusiasts know all too well, in recent years the Big Lake has been setting up nearly two weeks later than average, and it continues to break up much earlier.

Killer Kitty Cats
Forget about the cougars and bobcats! That cute, little cat out in the barn may not be as innocent it looks, according to a recent study conducted by the Smithsonian Conservation Biology Institute in conjunction with the U.S. Fish and Wildlife Service's Division of Migratory Birds. The research indicates predation by outdoor cats is likely much greater than was previously estimated.
Published in the online journal, Nature Communications, the study reveals outdoor cats may be responsible for the deaths of an estimated 1.4 to 3.7 billion birds and between 6.9 to 20.7 billion mammals annually.
Researchers believe the mortality caused by cats may actually exceed all other sources of bird and mammal mortality combined, including windows, buildings, communication towers, vehicles, and pesticide poisoning.
The study indicates the vast majority of mortality is the result of stray, farm or feral cats that do not live with humans.
It also indicates that free-ranging cats and projects intended to manage those populations such as Trap-Neuter-Return (TNR) actually result in greater harm to native wildlife species such as birds, mice, shrews, voles, squirrels, and rabbits.
As Dr. George Fenwick, President of American Bird Conservancy, explained, "The very high credibility of this study should finally put to rest the misguided notions that outdoor cats represent some harmless, new component to the natural environment. The carnage that outdoor cats inflict is staggering."
Joe Hackett is a guide and sportsman residing in Ray Brook. Contact him at brookside18@adelphia.net.
Vote on this Story by clicking on the Icon