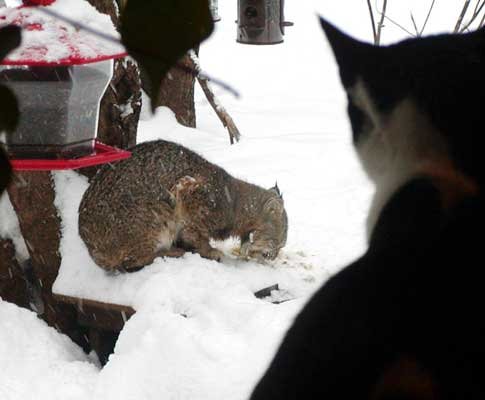 Studies estimate the various populations of these fish-eating birds once peaked at nearly 20,000, prior to recent population control efforts. Estimates put the current number of the winged, interlopers in the range of 12,000 to 14,000 birds.
Researchers examining stomach contents of these bird's have discovered cormorants prey primarily on panfish such as yellow perch, sunfish, and rainbow smelt. However, they also feed on the fry of popular game fish including bass, salmon and lake trout.
Although bird populations have begun to decrease, studies indicate they continue to forage nearly three pounds of fish, per day, per bird. Based on current population levels, the pesky birds consume nearly 20 tons of fish per day, and over the course of the season, it's been estimated that cormorants are responsible for removing nearly 3,600 tons of fish from the Big Lake. Considering the average smelt weighs about a third of a pound; the impact is obvious.
However, the birds can't take all of the blame. In recent years, water quality issues, invasive species and climate change have all combined to put a whammy on the lake's fisheries.
A recent study conducted in Germany reveals there is a correlation between lake ice and the growth of plankton, which is a key component of the aquatic food chain.
The research revealed a decrease in the duration of lake ice will result in less plankton, which reduces the available diet for primary plankton consumers, the panfish. With trends indicating increasingly warmer temperatures and the ever diminishing duration of lake ice, it appears our fisheries will remain in danger.
According to records from the 19th century, the Big Lake had frozen over nearly every decade from the 1820s through the 1920s, with open water occurring only about once in a decade. The lake failed to ice over completely twice during the 1930s, but only once in the 1940s. However, since that time, complete freeze-overs have become much less common. During the decades of the 1980s and 2000s, the lake froze over only about half of the time, and in the 1990s, the lake froze completely for only three winters.
Joe Hackett is a guide and sportsman residing in Ray Brook. Contact him at brookside18@adelphia.net.
Vote on this Story by clicking on the Icon