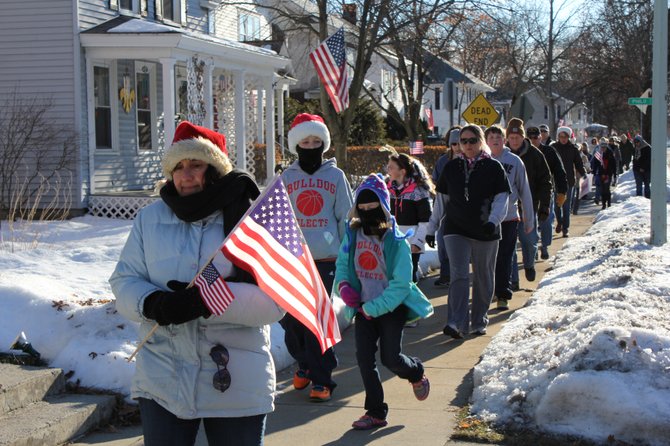 GLENS FALLS — Ready to head out on the 10th annual Glens Falls Christmas Eve Road March, Emily Simmons' cell phone rang and she took a call from her husband Robert Simmons, who is on duty from Afghanistan.
Smiling as she chatted on her phone early on Dec. 31, she told him about the crowd gathered at the Glens Falls Civic Center to march 3.2 miles through the city to pay tribute to U.S. soldiers as well as veterans.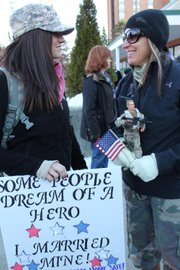 Minutes later, she said her husband was happy to hear that 1,400 people had gathered at the Civic Center to show support for military personnel on duty, and she talked about how he'd left home for Afghanistan about two months ago.
"At first, it was hard without him," said Emily, who is several months pregnant. "But I've learned to re-adjust to life — and I'm very proud of him."
Simmons was surrounded by her family members, including her aunt Hope Rosati-Frettoloso, who won the Road March raffle and was rewarded with a GI Joe doll garbed in camouflage and holding a miniature semi-automatic rifle. Her good fortune was appropriate, considering she and her relatives were named the largest group represented, and recognized for donating the most items for care packages to be sent to soldiers.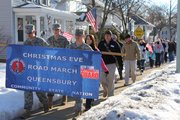 Among those present for the march kick-off event at the Glens Falls Civic Center were leather-clad Patriot Guard Riders. They formed a ceremonial color guard.
Linda Nichols, an officer of the Patriot Guard and Director of the regional Help on the Homefront outreach program for veterans, said she was impressed with the turnout.
"It's so good to see the community coming together like this and supporting the people on the front line," she said.
Despite an ankle injury, state Sen. Betty Little (R-Queensbury) was among those walking. She said the march meant a lot to military personnel on duty, as well as the family members of either veterans or soldiers now serving.
(Continued on Next Page)
Prev Next
Vote on this Story by clicking on the Icon