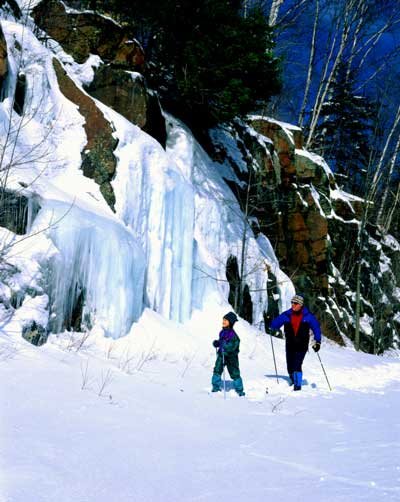 Comfortable is the key word. Kids are high energy and can be easily entertained with minimum equipment and minimal instruction. However, the main focus is having fun for everyone involved. Skis, skates or snowshoes are really winter's toys. Sleds are a helpful tool for when the kids get tired.
Kids have a lower center of gravity, and if they fall the don't have far to go. In fact, most kids like to fall in the snow, provided they are dressed properly.
My children have been on skis and skates from an early age. They began with boot binding skis, the type which allowed them to wear warm winter boots. They first learned how to slide, shuffle, fall and get up on the living room carpet.

Skiing is comfortable indoors as it's warm, there's no deep powder, no cold mittens, no runny noses and it really generates great enthusiasm for getting outdoors.
When they finally advance to real snow, it's important to remember they have short attention spans and mostly, they just want to have fun. Don't exceed their tolerance level, and try to stop while they still want more.
Be sure to pay attention to the weather and don't attempt outings in bitter cold or windy conditions. Be sure to dress kids accordingly and keep the lessons to a minimum. It is helpful to have a hill nearby, but not too steep. Even if they can't kick and glide; they will want the skis to slide.

Strive to make the experience exciting and entertaining for them, and be sure to quit before they are bored or get too cold, and always keep a sled handy, just in case! It's has to be fun, or it's done. Keep some hot chocolate handy.
If you want to instill a child with the desire to pursue the activity, whether skiing, snowshoeing or skating; be certain it is on their terms. Make their winter outings exciting and adventurous, and set simple yet achievable goals with a reward in mind.

Vote on this Story by clicking on the Icon