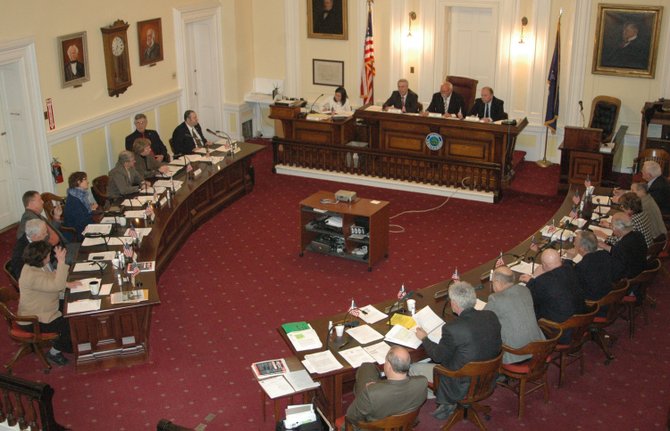 continued — Palmer said the plan was defined as needed by the state Comptroller's office, whose recent audit said that county had been too reliant on fund balance in past budgets.
"This increase is really the difference in the use of fund balance by the county," Palmer said. "We used $6.8 million in fund balance last year and we did not have that amount this year. We used $3 million, but that change alone leaves a $3.8 million hole."
Supervisors voted to cut the funding of a grader to the tune of $230,000 as part of decreasing the levy.
"The grader purchase is something that may be out through the five year plan," Palmer said. "We have a 1974 and 1999 grader and we can potentially get five more years out of both."
Contract agency funding was reduced $74,479 for 2014, putting those agencies back at 2013 funding levels. The only contract agency that received an increase was the Essex County Soil and Water Conservation District ($11,123).
The board also cut $16,000 to the Department of Public Works which was used for hiring a second operator, or "wing man," in vehicles for plowing roads.
The board did increase the budget for the office of the Clerk to the Board by $12,865.
When the final vote was cast, none of the Supervisors holding key leadership positions voted in favor of the budget as chairman Randy Douglas of Jay, Vice Chairman Bill Ferebee of Keene and Finance Committee Chair and Budget Liaison Officer Tom Scozzafava of Moriah all voted against the plan.
"I was not happy with the result," Douglas said "I was looking at nothing more than a five percent increase, but this is what the board decided on and we will move forward from here."
"I would like to have seen this budget come in with an eight or nine percent tax levy increase and I thought it was doable," Scozzafava said. "There was a lot of good discussion and a lot of good debate this year. A lot of hard work was done by the budget sub-committee."
Vote on this Story by clicking on the Icon