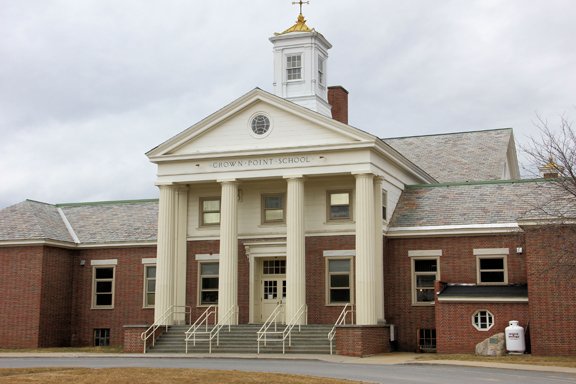 continued — "Children are getting a great education and want to be here," she said. "Crown Point does have a story to tell using numbers and facts and we should be weary of suppositions and suggestions."
Michaela Comes, salutatorian of Crown Point's Class of 2012, supported her alma mater.
"I am proud to be a graduate of Crown Point Central School," she said. "I left high school with 41 college credits. Many of my class did, too. I go to college with kids from Rochester, Oswego and other big places that did not have any college credit opportunities. We have the college connections we need right here at CPCS."
After hearing the public comment, Mitch St. Pierre, school board president, spoke.
"We (the school board) want to do the right thing," he said. "We are here to listen."
The board then voted to reject a possible merger with Ticonderoga Central School.
Shari Brannock, Crown Point superintendent, said she is pleased with the outcome.
"I am very grateful to our school community, staff, students and school board for the outpouring of support of the Crown Point Central School," she said.
The vote ends a process that started nearly three years ago and included an independent study by a consultant in Syracuse. That study showed a merger would save taxpayers in both districts and offer greater opportunities for students. The report was funded by the New York State Department of State.
"The whole purpose of the process was to explore the feasibility of a merger and how that would impact each community," John McDonald, Ticonderoga school superintendent said. "Each community had to make a decision that they felt was in their best interest for their students and community as a whole. 
"The Crown Point board entered the process with an open mind, received feedback from their constituents, and made a decision based on the information they received," he said. "I respect their position and appreciate their participation over the past year.  Even though there is not a merger, the process has given us some ideas on how to work together to share services and reduce costs for both schools."
Vote on this Story by clicking on the Icon