continued — A number of businesses and individuals were recognized during the annual Ticonderoga Area Chamber of Commerce volunteer appreciation dinner and awards ceremony recently.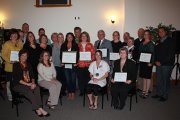 The Community Volunteer of the Year is June Curtis.
"This award goes to a community member who has changed the community for the better," Merfeld said in making the presentation. "This person does this by serving on committees, donating time and energy, and has worked effortlessly for the betterment of the community. This person works closely with the chamber, serves on the Ticonderoga Heritage Museum board, volunteers to serve the Ticonderoga Historical Society, The First 250 Years Committee, Cultural Arts Initiative, as well as for other organizations and businesses. She does this without seeking or wanting recognition.
"For her dedication to the community we are honored to present this award to June Curtis," she said.
Special Recognition Awards went to Pam Nolan and Starr Pelerin.
"At this time we would like to give special recognition to two individuals who have served the chamber for many years on our board of directors and will be leaving the board in 2014," Rathbun said. "Both of these individuals have seen the chamber through difficult times, changes in leadership and now have guided the chamber in a new direction with continued growth to better serve the business community and Ticonderoga area as a whole. For your continued dedication and countless hours of work as well as your guidance to bring the chamber into a new chapter, with a bright future. We would like to recognize our outgoing TACC Board President Pam Nolan and our outgoing TACC Treasurer Starr Pelerin."
The chamber also presented appreciation awards to Ticonderoga Elks Lodge #1494, Eddie's Restaurant, Mike Forand, Kiwanis Club of Ticonderoga and its Back Pack Program, Patrick Ida CPA, Sue Lidell, Ticonderoga Federal Credit Union, Jim Major, Meg Parker of Essex County Public Health Creating Healthy Places and Inter-Lakes Health.
Vote on this Story by clicking on the Icon