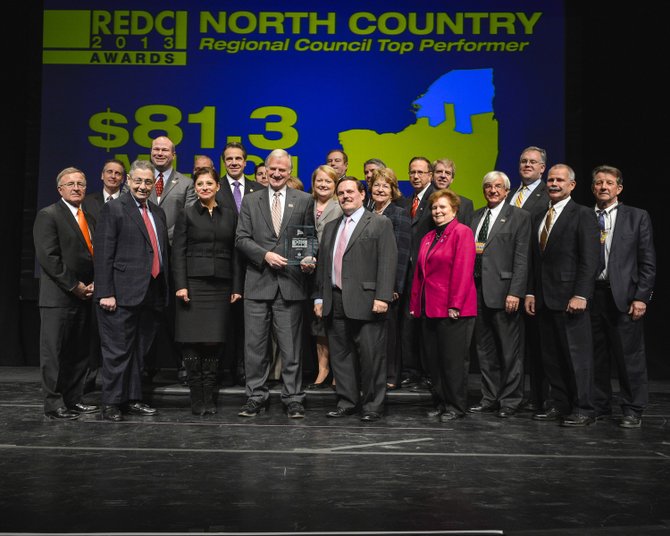 ALBANY — For the second straight year the North Country Regional Economic Development Council got the region some big bucks.
The North Country REDC was named as a Top Performer awardee Dec. 11 by Gov. Andrew Cuomo, receiving $81.3 million as part of round three of the Regional Economic Development Council initiative.
"In the last three years, we have put New York's fiscal house in order by controlling spending and cutting taxes and the global business community has taken notice," Cuomo said. "We are transforming New York State into a top destination for companies from around the world to locate, invest and grow with initiatives like START-UP NY to provide tax-free areas and support to businesses. The Regional Councils were empowered to change the face of economic development in their communities and they have accomplished just that."
One of the big winners on the day was the community of Saranac Lake, which saw awards given of $5 million for the renovation of the Hotel Saranac and $2 million for the construction of a new resort and waterfront restaurant at the former Lake Flower Hotel.
"It was real big," Mayor Clyde Rabideau said. "We have really needed the critical mass of quality lodging in Saranac Lake and when you add these 180 rooms that keeps us in the top tier of tourism destinations in the Adirondacks."
"This is a great opprtunity for the village to really catch up on some of its tourism infrastructure," Community Development Director Jeremy Evans said. "This funding hits on a lot of the goals that the village has and to see the state buy in on that as well is pretty exciting. From top to bottom it was a great day not only for us but for the North Country."
Rabideau said the increase in rooms will mean an increase in business throughout the community.
(Continued on Next Page)
Prev Next
Vote on this Story by clicking on the Icon