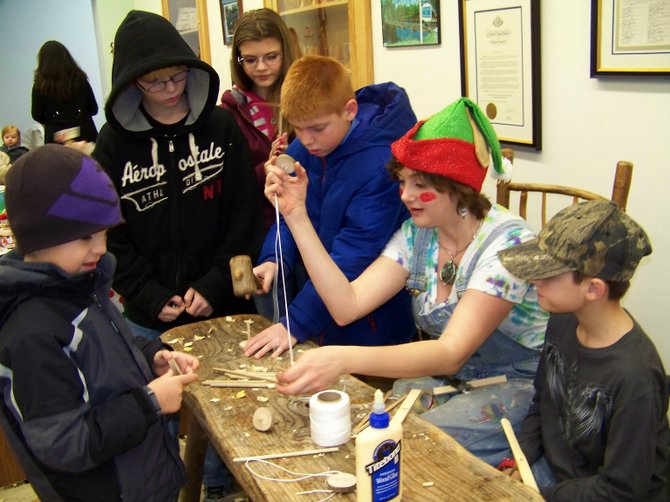 WARRENSBURG — Timothy Wright looked at his father Dave Wright dressed up as Santa Claus, sitting in a wagon Dec. 7 in front of the Warrensburg Town Hall, listening intently to one child after another share their Christmas wishes. The elder Wright prompted one child after another to voice their thoughts and holiday expectations.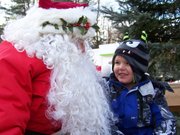 Wright's expertise as Santa was not lost on his son, who had toured the various attractions of Christmas in Warrensburgh — including the children's craft workshops inside the town hall — and said he was impressed.
"This event is the most amazing holiday celebration, he said, looking over the town hall filled with dozens of children working on an array of craft projects.
Various people throughout town offered similar sentiments, as the events and activities were increased for 2013, the 25th anniversary of the hometown holiday fest.
North on Main St. was another attraction that drew many local residents and visitors — a Living Nativity, with parishioners of three local churches posing as shepherds, wise men, Mary and Joseph attending the birth of Jesus.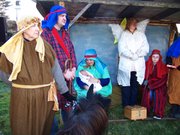 Several dozen members of the local Free Methodist, United Methodist and Presbyterian churches took half-hour shifts as actors in the holy scenario. Church members also crafted the authentic-looking costumes, and Pete Redfield of the Warrensburg First Presbyterian Church built the creche out of timber from his back yard, according to Nancy Barrows of the local Free Methodist Church. She and Ricci Redfield, Pete's wife, organized the Living Nativity along with Stephen Andrews of the Warrensburg First United Methodist Church of Warrensburg. The scene was complete with baby goats and a donkey provided by Nettle Meadow Farm in Thurman, Christmas in Warrensburg founder Teresa Whalen said.
"It was a wonderful, uplifting addition to the community celebration," Barrows said. "It helped people reflect on the deeper meaning of Christmas and what love is all about."
(Continued on Next Page)
Prev Next
Vote on this Story by clicking on the Icon