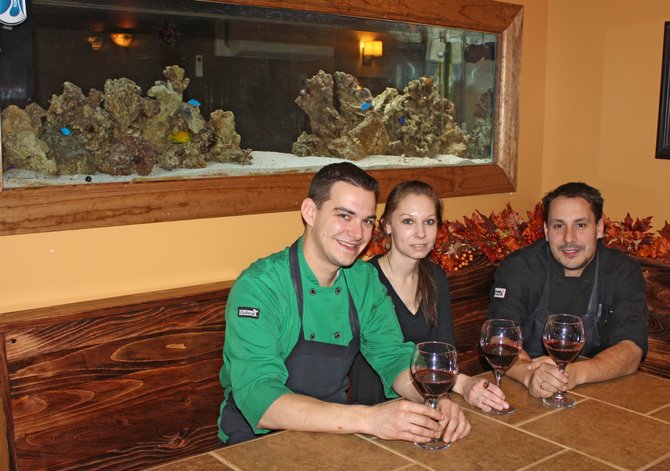 continued — He worked in several local restaurants, when the opportunity to open his own restaurant came up. He had never owned or managed a restaurant, and the decision to buy a restaurant took a huge leap of faith.
"So I was thinking about moving and getting into the cities where my style of cuisine was more common, and the opportunity for this place came up and everybody thought it was a bad location. So I did a lot of thinking about it, and Peter Whitbeck did what he could to help me get in here, and we did all the work. I painted everything, we built these tables, and it just took off."
What took off was Latitude 44 Bistro, at 5131 U.S. Avenue in Plattsburgh. Other restaurants had been tried in that location and failed. At Latitude 44, there is now very often a line out the door, even on typically quiet dining nights.
Allen is quick to give much of the credit to his staff. The kitchen at Latitude 44 is staffed from chef to intern with culinary school veterans.
"When you get the opportunity to work with people like that in a professional setting, it just spreads through the restaurant. To just be able to work with this team in this area is amazing," Allen said.
But where you really see a difference at Latitude 44, aside from the food, is in the atmosphere. Most of the customers are return customers, and if Allen knows you, he's likely come over and say hello, chat about your day, and just make you feel at home. And that home is growing. They have already had to renovate in order to add more seating, and a meeting room in the back. More is on the way.
Allen is opening a café in February across the parking lot for breakfast sandwiches, lunch sandwiches and coffees. It will be called Café 73. To anyone with a good GPS, the two names will make sense. Beyond that Allen just plans to continue to make good food, enjoy the fruits of his labor, and continue to grow as part of the fabric of Plattsburgh.
Vote on this Story by clicking on the Icon