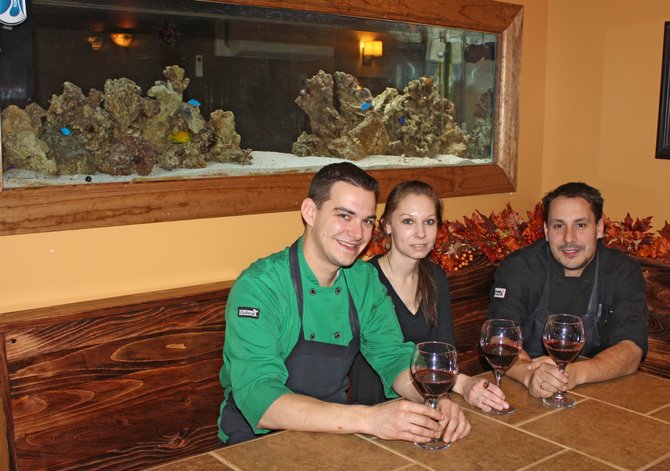 Plattsburgh — Plattsburgh area, and it's due in equal parts to Chef David Allen's cooking experience, and his youthful energy and ability to make people feel like they are at home in his restaurant.
Originally from Chazy, Allen graduated from Burlington High School, and went immediately into restaurant work. His first job was at a bowling alley, cooking and serving fried food. From there he moved on to the kitchen at Fletcher Allen hospital. Meanwhile, his desire to become a gourmet chef was growing, and he developed a passion for French cuisine.
"There was a girl that lived upstairs from me and she was a graduate of New England Culinary Institute (NECI), and I used to run and ask her questions and she saw that I had a passion for cooking, but I was on my own. I never thought culinary school was a possibility for me, it was too expensive," said Allen.
One day she just said that he needed to get down to NECI and check it out. He visited the school, and the financial aid office, and somehow worked out going there. At NECI he earned an Associate's degree in Culinary Arts, and was on his way.
"From there I got to travel, I went to The Breakers in West Palm Beach Florida which is five-star, five diamond restaurant," he said. "They have 13 or 14 different restaurants and I got to travel and work in every one of them."
Cooking was Allen's passport to travel, and he traveled to several different restaurants, as well as back to the Champlain Valley, over the next several years. But his passion for French cuisine eventually lead him to the Internet, to find the best French restaurant in the country. He found Lutece in Las Vegas, and packed his bags and punched his ticket to Las Vegas. He worked at Lutece, an experience he called "amazing," but he soon was on his way back to Plattsburgh.
(Continued on Next Page)
Prev Next
Vote on this Story by clicking on the Icon