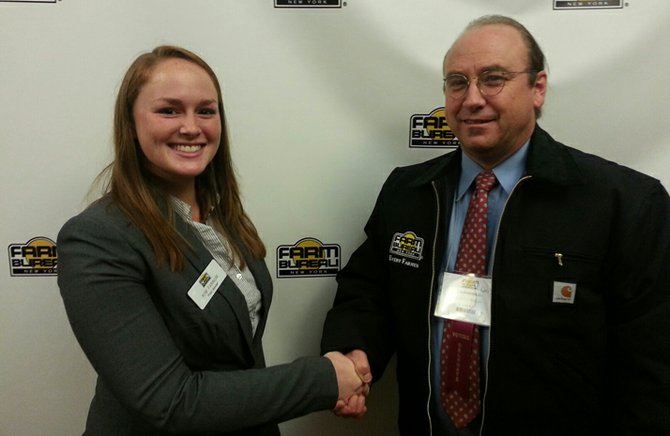 Schroon Lake — A Schroon Lake man has been recognized by the New York State Farm Bureau.
Larry Phillips received the Most Valuable Volunteer Award during the Farm Bureau's annual meeting in Syracuse recently.
Phillips is the membership chairman of the Essex County Farm Bureau. He received a Carhartt jacket with a New York Farm Bureau logo to recognize his efforts of signing up at least five new Farm Bureau members. He attended the meeting as Essex County's voting delegate.

Erik Leerkes of Ticonderoga is the Essex County Farm Bureau president.
"While at the state annual meeting, members also took part in the grassroots process of laying the groundwork for the year ahead," Kim Farnum, New York Farm Bureau field adviser, said. "More than 100 delegates from across New York proposed, discussed and voted on resolutions that set NYFB's public policy agenda for 2014.
"They also heard from a number of state leaders including state Sen. John DeFrancisco, Assembly Agriculture Committee Chair Bill Magee and Dean Kathryn Boor of Cornell CALS (College of Agriculture and Life Sciences)," she said. "Keith Eckel, chairman of Nationwide Insurance, also spoke about the successful partnership between Nationwide and New York Farm Bureau."
The Essex County Farm Bureau deals with economic and public policy issues facing the agricultural community. It is part of New York Farm Bureau, the largest agricultural advocacy group in New York State.
"Essex County Farm Bureau gives farmers and non-farmers alike the opportunity to be part of an organization dedicated to supporting and enriching agriculture," David Fisher, NYFB District 7 director, said. "It provides an opportunity for individuals interested in the food system, land issues and rural living to join together and make their voices heard. We are active within the political system on a broad range of issues that concern every New Yorker, from taxation, conservation to local food availability. We believe that a strong, viable agricultural industry is beneficial not only to our economy, but also to our local communities and our consumers."
(Continued on Next Page)
Prev Next
Vote on this Story by clicking on the Icon