continued — Last week, Timothy said he was motivated to launch this fundraiser to help others with the condition, as well as raise awareness about its devastation.
"I'm not alone in this disease — there are 50,000 new cases diagnosed each year, and these other people need as much help as I do."
He said many of those stricken with RSD are children.
"Kids as well as adults need to get help so they can get on with their lives."
Reflex Sympathetic Dystrophy causes burning, electric-shock-type pain to the arm or leg, extreme swelling and possible loss of use of a limb or more if not caught in time.
The intermittent pain can be so intense that it often causes blackouts or temporary paralysis. There is no cure, only the possibility of remission.
Kerry Lucid, a beautician at Heidi's, was busy with haircuts until about 5:30 p.m., 90 minutes past the time the fundraiser was to be concluded. Also cutting hair were salon staff members Jade Leonbruno, Courtney Beadnell, and Sarah Tyrell. Proprietor Heidi Baker was out of town for the weekend.
Kerry Lucid said she was thrilled with the participation from people across the region, and there was a lot of excitement in the salon for nearly 8 hours.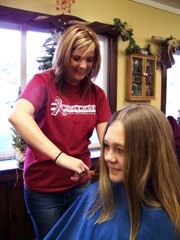 "It was amazing that in the short time we spent planning the fundraiser that we got the support we did," she said. "Times are hard, and for so many people to support a cause for a syndrome that they probably never heard of is really unbelievable."
Fred Griffen III and his wife Sara Griffen of Pottersville brought their children Fred IV, 10 and Abigail, 11 to the Cut-A-Thon.
"Tim's a great kid, very well liked in the community, and we're happy to help as much as we can," Sara Griffen said.
Vote on this Story by clicking on the Icon