WARRENSBURG — A 13-year-old boy from northern Warren County has been stricken with a rare chronic disease that causes episodes of horrible, nearly unbearable pain — and dozens of people from the region jammed Heidi's Clip Joint Dec. 7 to get their hair cut and support a fundraiser that the boy and his mother organized.
Although the family of Timothy Lucid of Adirondack is facing considerable medical bills due to the condition, Timothy and his mother Kerry Lucid are donating the money to research toward a cure. All proceeds are going to research Reflex Sympathetic Dystrophy and Complex Regional Pain Syndrome, both neuropathic autoimmune disorders.
The response of people reading about his condition in the Adirondack Journal was so great that the salon had standing-room-only for hours on Saturday.
Present at the event was Timothy Lucid, a top-performing 8th-grade student at North Warren Central, greeting people as they came in the salon, thanking for their participation in the fundraiser. He was backed up by schoolmate John Riley, who helps Timothy get around at North Warren, and Dylan Nicholson of Lake George, another friend who played on Timothy's Little League baseball team several years ago.
"There are a ton of people, and this is a really good turnout," Timothy said as he checked in people at the door. "It's so nice to see the community rally around this cause and help out so generously."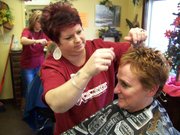 Haircuts were $10 each, but many people donated far beyond that amount. Drawings were held for gift baskets containing various items, services, and gift certificates donated by various area businesses. All proceeds go to RSDS.org and RSDHOPE.org, a non-profit organization that assists families in getting the support they need to cope with this life-altering disorder.
Timothy was recently diagnosed with RSD after surgery for a fractured elbow. Timothy was an All-Star pitcher with an impressive fastball before being stricken with this devastating condition, for which there is apparently no cure known at this point.
(Continued on Next Page)
Prev Next
Vote on this Story by clicking on the Icon