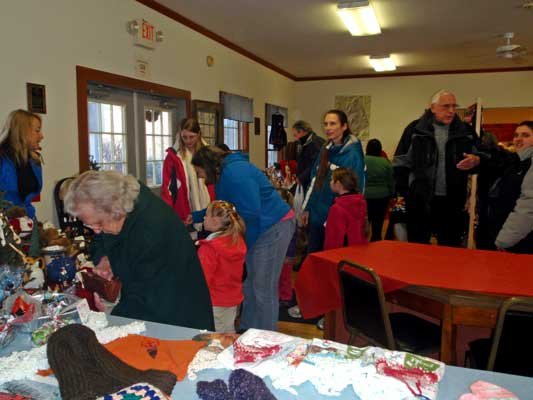 LARAC offers unique gifts
If you still have some people on your shopping list that you have yet to find a gift for, the Lower Adirondack Regional Arts Council also known as LARAC, will be hosting a "Last Minute Dash event from 5 p.m. to 8 p.m. Thursday Dec. 19 at their Holiday Shop. LARAC is located at 7 Lapham Place, Glens Falls.
For the "Last Dash" event, the Lapham Gallery will transform into a festive showcase, offering holiday shoppers beautiful, original, and unique gift items.
LARAC members will receive 15 percent off all items; non-members will receive 5 percent off purchases. Lake George Distilling Co. will be giving free samples and selling their products. There will also be live music. For details, call 798-1144.
Baptists plan Christmas services
The Thurman Baptist Church on Valley Road will be holding a children's Christmas program at 6 p.m. Dec. 15 during the evening service. They will also be having their Christmas Eve service at 6 p.m. on Dec. 24, of course.
Events & activities in the hills
Santa Claus will be coming to town on Saturday, Dec. 14, from 1 to 3 p.m. at the Thurman Town Hall for the annual Children's Christmas Party. There will be delicious refreshments and arts and crafts to occupy the little ones while they wait for Santa and Mrs. Claus to arrive. Area children look forward to this event every year and young and old have wonderful time. Once Santa arrives he visits with the children for a while and thy tell him what they most want to open on Christmas morning.
Every child will receive a gift from Santa at this free event. So dress your little ones in their holiday best and don't forget your camera!
The county-sponsored senior bus service makes their trip to Glens Falls on the second and fourth Friday of each month and the next trip will be on Dec. 27. This may be the ideal opportunity to grab some after-Christmas deals. The service is for seniors age 60 and over. To schedule pick up, contact Laura by Tuesday Dec. 24 at 623-9281.
Vote on this Story by clicking on the Icon