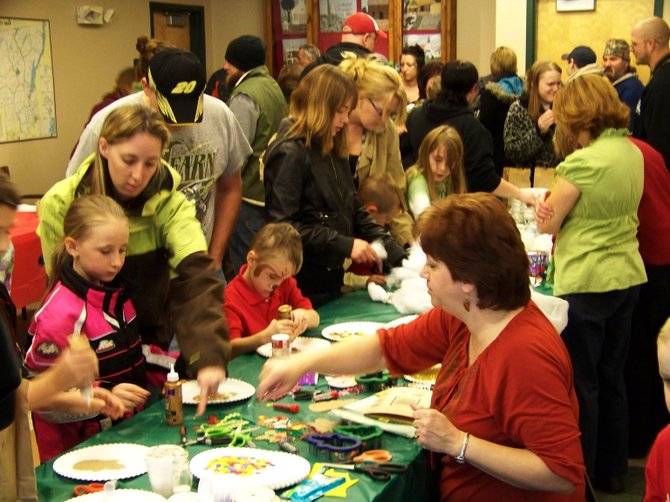 continued — While children were delving into creative projects inside the town hall, outside Chris Boggia of Circle B Ranch was leading horse-drawn wagon rides around the Brant Lake Mill Pond.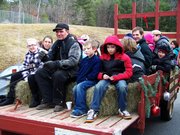 In an email this week, Sally Joiner of the Friends of the Horicon Library explained that Santa had to skip Brant Lake this year because of his workload.
"There are so many children that are asking for special gifts this year that Santa is working overtime to see that they are all ordered and delivered on time," she said.
But regardless of Santa's absence, event organizers said they had a record turnout for this beloved traditional event in northern Warren County. Studler looked at the standing-room-only crowd in the the town hall with dozens of children working on various crafts. "We've got a well-oiled machine going here," she said. "And the turnout is really amazing considering Santa wasn't here this year — It didn't really make a difference!"
One more craft session scheduled for 2013
Next up for upcounty holiday fun is a program, also sponsored by the Friends of Horicon Library, in which children and their parents gather at 7 p.m. Friday, Dec. 13 at the Horicon Town Hall to make decorations for a live miniature Christmas tree, Joiner said.
"Children can take this potted Christmas tree home for their families, deliver it to a shut-in, or give it to a special friend or neighbor," she said. "All are welcome to join us for what will be a fun and festive evening."
Families participating in this upcoming session are asked to call event organizer Barbara Blum at 494-3357 or send an email to blblooms@aol.com so appropriate advance preparations can be made.
Vote on this Story by clicking on the Icon