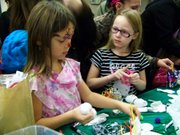 BRANT LAKE — Santa may have been a no-show this weekend in this rural lakeside town, but the Christmas spirit was thriving regardless.
No less than 220 children showed up Dec. 8 for the Christmas in Brant Lake event to create holiday crafts — considerably more than the routine annual number.
Sunday afternoon, the Horicon town hall was packed to capacity with area youth — plus their parents — as children fashioned decorations or gifts and decorated holiday cookies at more than a dozen different craft stations manned by 30 or so volunteer instructors.
Mid-afternoon, Chestertown preteen Olivia Slater had her hands stuck into a bowl filled with a concoction of green shredded wheat, glue and sparkles. She winced as she kneaded the colorful mess.
"At first, I was like 'Uuuugh," but it's not so bad now," she said of her task. The spiky green mixture was being formed into thick circles by children, adorned with decorations — and the outcome was an ornament looking remarkably like a holiday wreath.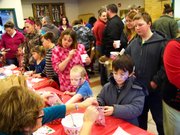 "It's really amazing," Olivia continued. "I've never done this before."
At a table nearby, her friend Katelyn Turano created decorated candle holders, fashioning them out of glass jars. Her mother Cindy Turano noted that the staff at the town of Chester landfill provided the many dozens of jars, retrieving them out of recycleables bins over the past several weeks.
Not far away, children made snowmen ornaments out of baby socks stuffed with polyester batting. Event organizer Kira Studler explained that the adults and teens staffing the craft tables and providing instruction brought their own ideas and supplied the materials needed.
Tom Johansen presided at a table where reindeer ornaments were made with wooden spoons, to which children attached googly eyes, and brown pipe cleaners for antlers.
Barbara Blum helped children make a different style reindeer ornament, constructed from wine corks that people in the community saved for months. The event was sponsored by the Friends of the Horicon Library. Community groups including the Horicon Volunteer Fire Co. Auxiliary and the Krafty Kritters helped staff the session. Auxiliary members brewed up the "snowman soup" that was handed out — the concoction of hot chocolate, marshmallows and Hershey's kisses, stirred up with a candy cane. The liquid confection gave the children the "sugar buzz" that fueled their creativity.
(Continued on Next Page)
Prev Next
Vote on this Story by clicking on the Icon