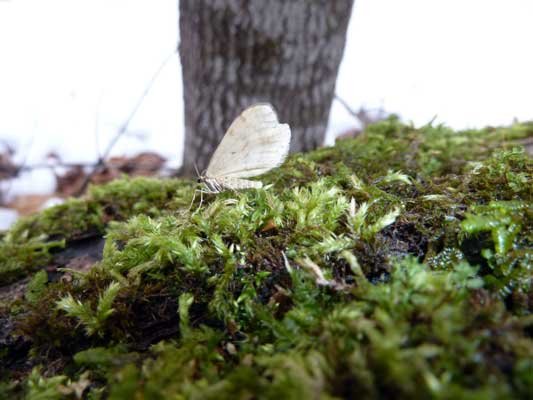 After enjoying one last, long day of hunting, I sat out on my back porch deck to watch the sun set. I stayed out long enough to see the stars begin to sparkle in the night sky.
It had been a good day to be in the woods and on the hunt. There had been adequate snow cover to illustrate the comings and goings of deer, and all sorts of other woodland creatures. Even a few winter moths were in the air, fluttering by and catching my eye with a I finished up the last day by taking the long route back to camp, which went up and over a long ridge that features stunning vistas of the surrounding hills and mountains.
I decided to go up there because I hadn't climbed the ridge even once during the entire season.

The hike took me through some thick spruce, and lots of open hardwoods, but surely the finest part of my final journey was the time I spent sitting alone, atop a huge glacial erratic that is set on the edge of a wide open field of moss.

We've always referred to the clearing as the Big Grassy, even though the moss is so thick, it feels like you're walking on a big, down mattress.
I guess my urge to hike over the hill was my one last chance to grasp for a little bit of the pieces and places that were still left in my season.

This year, I didn't get into the woods near as often as I have in the past. It appears there were more responsibilities this year, and less time to escape them. It can't be that I'm slowing down!
Overall, the season was a productive one, with a few nice bucks taken. The high point came when Poppy, the oldest member of our crew, took a buck on the first hunt of the morning of the season. The deer was promptly dressed, dragged back to camp and hung before the morning's coffee even had a chance to cool.
Joe Hackett is a guide and sportsman residing in Ray Brook. Contact him at brookside18@adelphia.net.
(Continued on Next Page)
Prev Next
Vote on this Story by clicking on the Icon