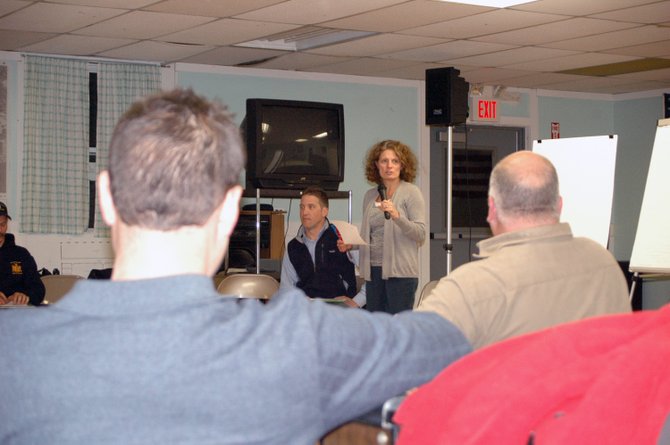 continued — "We have been working on this project for about a year," town hall committee member Bill Johnston said. "We are looking at rehabilitating this building. What we heard informally is that people wanted this building to stay the town hall. This building is an integral part of the town and people want the town hall to remain here."
Johnston said that there are several issues with the town hall, including leakage, accessibility, framing and code compliance.
"The building needs to be brought up to the building code," Johnston said. "The best way to put it is that we need to modernize this building. When this building is updated it should have all of the bells and whistles of a new, modern building — have all offices on one floor. This building has assets and is a valuable building. This is a basically sound building."
For the fire department and highway, the focus was more on building a new facility that could be used jointly by both entities.
"I see that this is something that needs to get done and I want to find a cost effective way for this to get done," said volunteer fireman Jim Rule, a member of the fire house and DPW committee. "There's numerous problems and a lot of it stems from the age and the size of the facility. Currently, we do not have any room around the vehicles to safely work. The problems are just too many to try and address it where the current building is located and are just too many to address them without the need of a new building."
"The long and short of it is we have outgrown our building," DPW head Dennie Westover said. "The trucks are bigger now and the same is true for the fire department. Now, they all have to sit outside and we have to keep them plugged in all the time and that is not being energy efficient. But the biggest key is the safety. I want a clean, workable safe environment that my men can work in."
Vote on this Story by clicking on the Icon