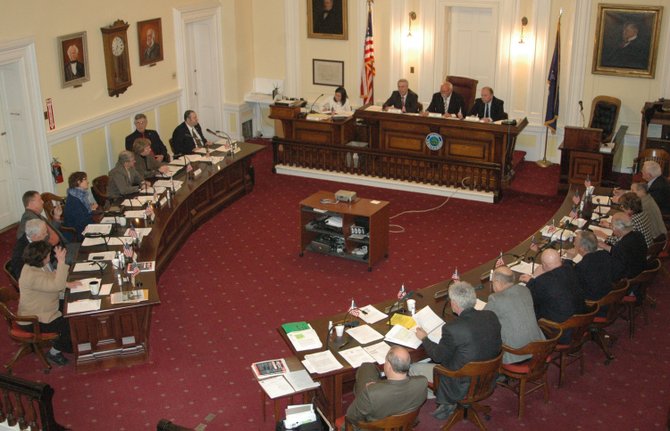 Elizabethtown — The decision on who will install new mobile radios in the county's emergency vehicles was temporarily put on hold Nov. 25 so both businesses looking for the contract could speak to the board.
Members of the Essex County Board of Supervisors heard from Wells Communications President Edward Kehn after Chesterfield Supervisor Gerald Morrow offered an amendment to a resolution authorizing the installation of the radios, awarding the contract to Wells.
"This is a very sophisticated, multinet system and the radio is very important to the entire system," Kehn said. "If the radios are not in tune properly, then you would have problem. All of my technicians have the highest certification that you can get. I have 10 years invested into the success of this system. I have a lot of money, man hours and sweat equity invested into waiting for this day and I would say that there is no other company in this state this is more prepared to work on your system then us."
A second company, Capital Digitronics which has an office in Keene, was not at the Ways and Means Committee meeting.
"The other company asked if they should be here tonight and I told them that they probably did not have to because I did not believe that we were going to be awarding the contract tonight," Ways and Means chairman and Keene Supervisor Bill Ferebee said. "I believe we need to let Capital Digitronics come forward at the full board (meeting Dec. 2) and address any of these issues."
The Capital Digitronics bid received by the county's Request for Proposals (RFP) was lower than the Wells Communications bid, but at issue was whether the contract company needed to be a Motorola (the company that produced the radios) licensed dealership.
"The installer has to be a Motorola shop or it will void the warrantee," Emergency Services Director Don Jaquish said. "We have somebody that can work with the parent company to fine tune the radios once they are installed. They are a lot more complex than the simple radios that we are using now. The really critical part is the configuration of the radios. We are still working on the template for that. So no matter who is going to install these, they are going to have to work with Motorola to make sure that the installation template is correct."
(Continued on Next Page)
Prev Next
Vote on this Story by clicking on the Icon