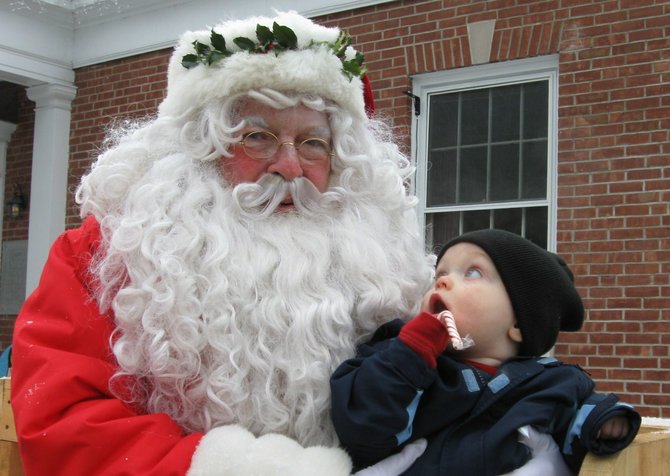 continued — • Mini-Festival of Trees, showcasing various decorating ideas for the holidays, from 10 a.m.- 3 p.m. Saturday at Cecilia's Catholic Church.
• Living nativity, noon to 4 p.m. Saturday only — complete with caroling and hot chocolate — in front of Alexander Funeral Home, Main St. midtown.
• At most all the churches downtown, there will be bazaars and food sales. Plus, a food and craft sale is also featured at the Countryside Adult Home, Schroon River Rd.
• Craft demonstrations and sales will also be held, at Riverside Gallery and Miller Art & Frame, with traditional rug hooking, spinning and weaving.
• Mule-drawn wagon rides, featuring Belgian mules from Our Simple Life Farm, 10 a.m.-noon on Saturday and 1 p.m. to 3 p.m. on Sunday.
• A new Holiday Market, 10 a.m. to 4 p.m. on Saturday, featuring Adirondack crafts and local farmers' produce, both new this year and situated at the Warrensburg Senior Center on Main St. Free zumba mini-classes at the market are an extra feature.
• Story telling for children from 10 a.m. to noon Saturday at Richards Library, while adults take a tour and see the library's new addition and extensive renovations.
• Sacred and classical Christmas music performed by James Corriveau, family and friends, at about 7 p.m. Saturday in St. Cecilia's Catholic Church on Main St.
• Open houses at various local businesses.
• Pet photos with Santa, 9 a.m. to 11 a.m. Saturday at Nemec's Sporting Goods northern Main St.
• Book signings and readings by local authors, 10 a.m. to 3 p.m. Saturday at Willows Bistro on Main St. midtown.
• The annual tree-lighting ceremony at the uptown Floyd Bennett Memorial Bandstand is at 6 p.m. Saturday, featuring the arrival of Santa, caroling, music, hot chocolate and cookies. The event features live music by a local youth band. Participants are asked to bring bells to ring to celebrate the town and county's Bicentennial.
Vote on this Story by clicking on the Icon