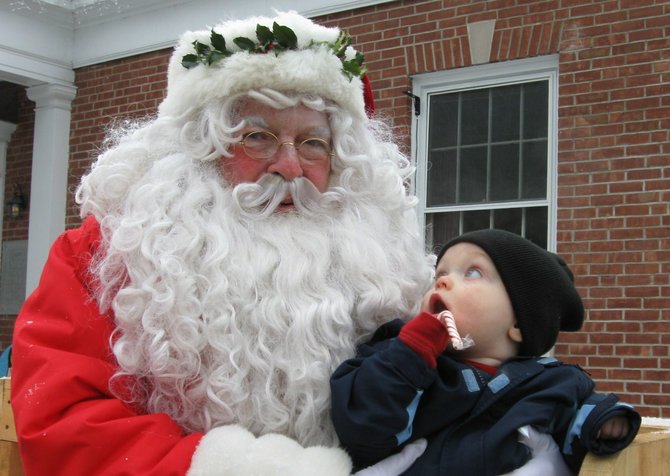 continued — "Our holiday festival has grown and flourished, and has enjoyed ever-increasing appeal to visitors who come here and stay for a weekend," she said.
This year's theme, "And the Bells shall Ring Out," refers to the ringing of church bells throughout Warrensburg on the day of the town's Bicentennial this past Feb. 12 and around Warren County for the county's bicentennial on March 12 — and the Warrensburg holiday fest will be the observing these two milestones. Christmas in Warrensburgh will be last of the sanctioned events observing these two milestones. A secondary theme of Christmas in Warrensburgh, Whalen said, is about sustainable living in our local community — including a focus on locally produced, handcrafted foods and goods.
For a quarter-century, Christmas in Warrensburgh has brought people of all ages together in a festive spirit, and promoted spiritual and cultural enrichment, she said.
"Our theme embraces aspects of small-town life in our community we're thankful for and we're happy to share with others," she said. "It's all about sharing an old-fashioned holiday celebration in the Adirondack Mountains."
Schedule of Events:
Friday activities include:
• Christmas-themed readings presented by authors, 7 p.m. at Willows Bistro, Main St. downtown.
• Animated Christmas movie, followed by a children's craft workshop, 7 p.m. at the Free Methodist Church, on River St. northwest from downtown.
Saturday's activities include:
• Warrensburg Town Hall is converted into "Toyland," complete with a variety of children's activities from 9 a.m. to 4 p.m.. Here, children will be making gingerbread houses, ornaments and other crafts including wooden toys. Also, Santa will be visiting with live reindeer from 10 a.m. to 2 p.m.. There will be bake sales and food concessions, and holiday postal cancellations. Photos with Santa will be available from 11 a.m. to 3 p.m.. Mid-day activities include local school bands playing holiday music.
Vote on this Story by clicking on the Icon