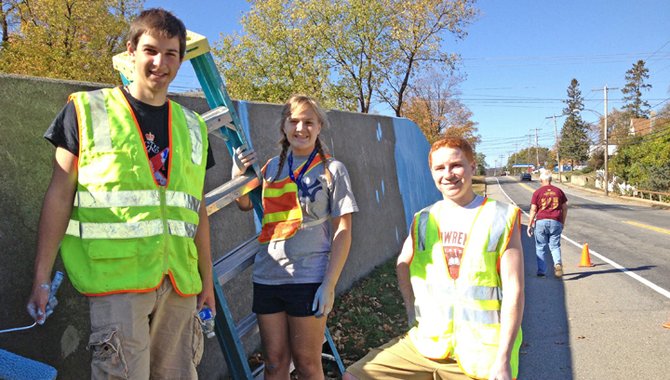 continued — "The weather had been exceptional until now and the artists worked as long as weather permitted," she said.
The project will be completed in the spring.
"We are done with painting this year, and I can't wait to finish it in the spring," Maura Jebb said. "Mrs. Pulling and I tried to give it one last whack, but the weather wasn't cooperating. The wall was just too wet."
Pulling said the design was completed without technical assistance.
"I would like people to know that the sketch was done the old fashioned way — by eye," she said. "I don't like leaving a job unfinished, but the wait will be worth it. Spring is not that far off. This was a large project, so I'm proud that three women were able to get the mural this far."
Maureen Jebb is also anxious to complete the project.
"I've really loved being a part of this mural project," she said. "It's been so much fun and very rewarding."
Maura Jebb thanked those who have helped with the mural, especially Van Wert and Pulling.
"Mrs. Van Wert and Mrs. Pulling have been my teachers throughout this whole process," she said. "I've learned so much about team work and cooperation. I don't know how they do it. It's hard to work with many people. There's so many opinions to hear and so many people to please. I've also learned that is takes a lot of jumping through hoops.
"When the time came, it felt good just to start painting," she said. "Mrs. Pulling has been amazing in teaching me the tricks of the trade. She's taught me so many little things that only experienced painters would know. She has made the process effortless and for the most part stress free. Her trained hand has added a lot of energy to the mural I wouldn't be able to provide. My mom and friends have been incredible. They sped up the process exponentially. My mom painted with Mrs. Pulling and me even during the lousy weather. She's the best."
Vote on this Story by clicking on the Icon