Ticonderoga — A retaining wall on Wicker Street in Ticonderoga is becoming a work of art.
Work has started to paint a mural on the concrete structure near Inter-Lakes Health. It's scheduled to be completed in the spring.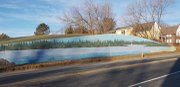 Maura Jebb, Maureen Jebb and Joan Pulling are the primary artists working on the mural, although it has been a community project, according to Chattie Van Wert, executive director of the Ticonderoga Revitalization Alliance.
It's Ticonderoga's second mural project. Last summer a mural was painted on the wall of the Ti Barbershop on Champlain Avenue.
"With the assistance of Sharon Reynolds of PRIDE, this mural project started last summer with the receipt of a $550 grant from the Essex County Arts Council awarded to the Ticonderoga Revitalization Alliance with the stipulation it be used this year," Van Wert said. "After successful completion of the mural on the side of Ti Barbershop next to Jay's Sunoco, the mural team was willing to pursue another.
"Over the course of a few weeks, several locations for the next mural were considered and at the recommendation of Vincent Smith, the retaining wall on 9N/Wicker Street was selected," she said.
The image is an Adirondack lake being fed by a waterfall. It was designed by Maura Jebb, a Ticonderoga High School student, and Pulling, a local artist who is mentoring her.
The retaining wall is the property of the state Department of Transportation. Once permission was secure, the Ti highway department cleared brush.
"With permission from neighbors Doug and Robin Trudeau to use their outside water source, Art Hatfield and Jim Beaty power washed the wall to remove dirt and mold from the surface," Van Wert said. "The long Columbus Day weekend provided perfect weather for two coats of a protective water sealant to be applied by Maura and her parents Paul and Maureen Jebb, friends Mark Donohue and Marcus Moser, with the help of Art Hatfield, Jim Beaty and myself. The sealant was tinted a sky blue which will act as the base for the sky and water.
(Continued on Next Page)
Prev Next
Vote on this Story by clicking on the Icon