continued — Zeke Durham 22 11
Sultan Sikandar 23 11
Kobe Parrow 11 9
2012-13 record: 14-4
Coach: Jaime Douglass
Assistant: Kevin Douglas
Girls basketball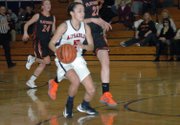 The state semifinalist AuSable Valley girls varsity basketball team is going to have a tougher road if it wants to make it back to Troy in 2013-14.
First, the team will begin play in the first season as a member of Division I in the Northern Basketball League. At the end of the season, the Lady Patriots will have to make their way through the Class B bracket (they were Class C last season) if they want to get into the state rounds of March.
"We hope to contend for Division I championship as well as a sectional championship in Class B," head coach Roger Long said.
Fortunately, All Valley 2012-13 coach Roger Long will look to four returning members of the All Valley team for experience, including AVT captain Meghan Strong, who hit a season high 46 three pointers on her way to 310 points in the 2012-13 season.
Strong is joined by fellow All Valley starter Taylor Saltus (244 points 2012/13) and reserves Logan Snow (182) and Madison Rondeau (145).
Also returning from the Class C Final Four team are juniors Shelby Bourgeois and Jeanna Manning along with sophomores Sydney Snow, Nicole Santamaria and freshman Madison McCabe.
Roster
Name No. Grade
Taylor Saltus 5 12
Logan Snow 11 12
Meghan Strong 1 11
Jeanna Manning 3 11
Madison Rondeau 15 11
Nicole Santamaria 20 11
Shelby Bourgeois 33 11
Sydney Snow 35 10
Madison McCabe 40 9
2012-13 record: 19-3
Coach: Roger Long
Indoor track and field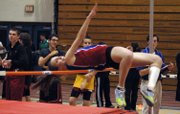 The AuSable Valley varsity indoor track team has a lot of athletes with single digits next to their names.
The Patriots roster has 20 members in grades 7-9, while only boasting four upper classmen (one senior, three juniors).
Vote on this Story by clicking on the Icon