Clintonville — AuSable Valley athletes are preparing for the 2013-14 winter sports season coming of a very successful campaign in 2012-13. Team schedules can be found here.
Boys basketball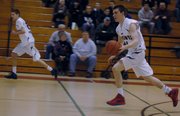 The AuSable Valley varsity boys basketball team will return to the ranks of Class B schools one year after being on the verge of a trip to the Class C Final Four.
The Patriots, whose season ended last year with a regional finals loss against eventual state champion Lake George, will return a solid core of players to the floor for the first year of the Northern Basketball League Division I, along with All Valley Captain Shane Douglas (Valley-high 347 points in 2012-13), All Valley starter John Goodnough (176) and All Valley reserve Zach Cosgrove (160).
"They will be joined by Nick McDonald and Austin Facteau for the starting five," Patriots head coach and 2012-13 All Valley coach Jaime Douglass said. "We really have a starting seven with Kobe Parrow down low and Sultan Sikandar at Guard followed by strong play from Riley Peck, Zeke Durham and the currently injured Prescott Doyle. Douglas and Goodnough were named to state all star teams, but if other teams watch them to much the rest of team will make them pay."
Douglass said that the team will rely on its calling cards of speed and defensive tenacity while working on other parts of the game as the season progresses.
"Our team goals are to strive to get better as the season progresses and to peak at sectionals," Douglass said. "We need to stay out of foul trouble and we have to work on rebounding."
Roster
Name No. Grade
Riley Peck 3 12
John Goodnough 14 12
Austin Facteau 21 12
Shane Douglas 24 12
Nick McDonald 33 12
Zach Cosgrove 1 11
Prescott Doyle 2 11
(Continued on Next Page)
Prev Next
Vote on this Story by clicking on the Icon