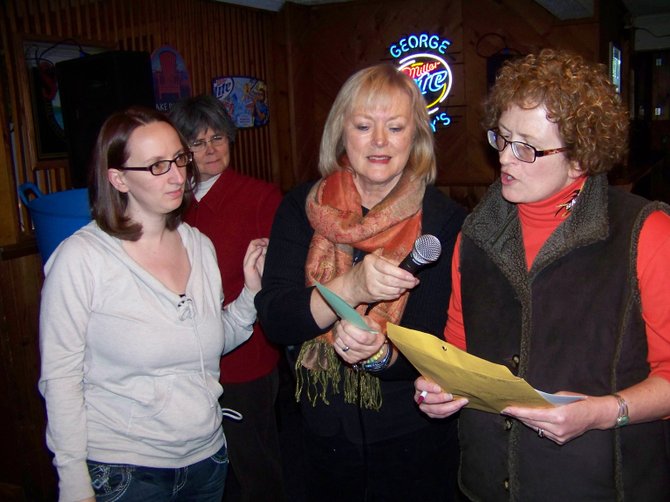 WARRENSBURG — Anna Busser held up a wad of raffle tickets that was thicker than a vintage Los Angeles phone book.
"Look at how many people visited businesses throughout Warrensburg today," she said. "Stores were busy all day long."
The tickets were handed out at stores throughout downtown Warrensburg in the first-ever Buy Local promotion — held on the Saturday following Thanksgiving.
Local merchants offered discounts, giveaways and prizes as well as the raffle tickets.
Both event organizers, shoppers and merchants said the promotion was a substantial success.
Busser, who has advocated for sustainable lifestyles, helped organize the event with other members of the Greater Warrensburg Business Alliance.
Alliance chairwoman Kathy Mosher-Hill circulated through town on Nov. 30 as did other members of her group, placing signs of participating retailers, coordinating details and when daytime diminished, collecting the raffle tickets.
"There were people in town from Connecticut New Jersey, Massachusetts, and from all over the local region," she said. "We had a blast."
Yvonne Miller of Miller Art & Frame said her store was far busier that a routine pre-holiday Saturday. The Main Street shop sells a wide selection of antiques, collectibles and furnishings as well as artwork.
"The promotion worked — we were busy all day," she said at closing time. "We saw a lot of new people in our store as well as a lot of old friends — it was great."
She said she'd heard from other retailers in town, and they had experienced a similar rush of customers.
"We're really pleased and so are other merchants," she said.
Braley & Noxon Hardware assistant manager Jesse Bennett agreed with Miller's assessment. Braley & Noxon Hardware Store extended a 10 percent discount to shoppers, as well as being a designated destination to pick up a raffle ticket.
"The Buy Local campaign worked out well — we had quite a few extra people in our store," Bennett said.
(Continued on Next Page)
Prev Next
Vote on this Story by clicking on the Icon
More like this story