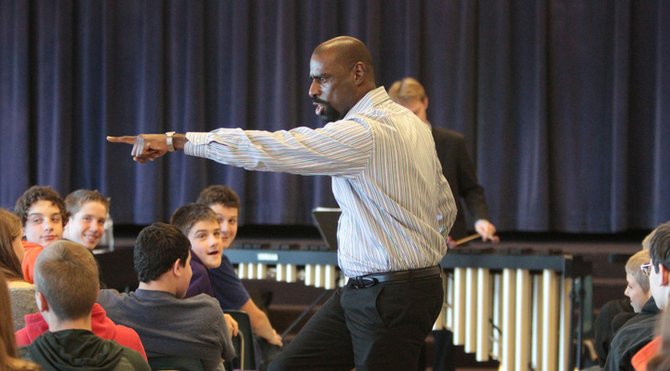 Ticonderoga — Ticonderoga students got a taste of Broadway recently.
The Learning Arts, a collaboration of music and education professionals, recently presented "Broadway and Carnegie Hall" to students.
It's the second year The Learning Arts has visited Ticonderoga's middle and high schools.
"Most of the performers have changed, but the quality remains the same," John Donohue, middle school principal, said. "The performers have played in venues like Carnegie Hall, Broadway and PROMS. They really are some of the best of the best.
"The performing and teaching artists of The Learning Arts are here in our school district through the generosity of an anonymous donor family from the region," he said. "They will be performing concerts and leading thematic workshops linked to life skills, the academic curriculum and the arts. They are leaders in their field and come highly recommended."
Dianne Legro, a stage actress and singer, Tom McCoy a pianist and composer, Steven Herring, an opera and stage performer, and Jim Benoit, a percussionist, made the trip to Ticonderoga.
"They're phenomenal," Donohue said. "It's a great opportunity for our kids to enjoy these professional artists. It's a wonderful learning experience."
Besides performing, members of The Learning Arts did workshops with students that incorporated science, English, math, history and art.
"Music touches all of us," Legro said, "and it touches so many aspects of our lives. We want children to see music everywhere they look."
Besides "Broadway and Carnegie Hall," the troupe presented programs on "Music as Story" and "Exploring American Poetry and Literature through Music."
The Learning Arts visit to Ticonderoga was free to the school. The cost of the three-day program was covered by an anonymous donor, Donohue said.
Legro said the anonymous donor has deep roots in the Adirondacks and a desire to share love of the arts with local students. Thanks to the donation, Legro said The Learning Arts will visit all 62 schools in the Adirondack Park this academic year.
(Continued on Next Page)
Prev Next
Vote on this Story by clicking on the Icon