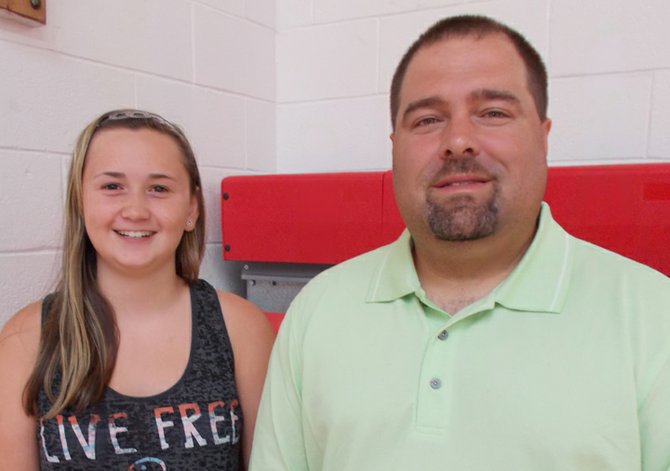 Port Henry — A pair of bells — from the old Mineville and Moriah schools — will toll at Moriah Central School thanks to a local Girl Scout.
A dedication ceremony for the bells will be held Saturday, Dec. 7, at 1 p.m. at the school. Refreshments will follow in the school cafeteria.
Brooke Mildon, a 12-year-old Cadette Girl Scout, led the project to retrieve the old Mineville and Moriah school bells from storage and place them near the entrance of the current school in Port Henry.
Mineville, Moriah and Port Henry schools ceased to exist Feb. 21, 1968, when they combined to create the present Moriah Central School. The school bells have been in storage since that day.
"I am very passionate about this project because I have many family members who attended both of these schools," Mildon, a seventh grade student at Moriah Central School, said. "I am hoping to keep the memories alive that these schools once existed and want others from my community to have the opportunity to learn about the historic meaning behind these bells."
The project will help Mildon earn the Silver Award, the highest award available to Cadette scouts.
"I think this is a wonderful project," said Bill Larrow, Moriah school superintendent, who assisted Mildon. "Displaying these bells to the public will bring back a lot of memories for many people and encourage others to learn more about the Mineville and Moriah schools. They're part of our heritage."
As part of her project, Mildon researched the history of the old schools and the bells. She interviewed former students, read old yearbooks and met with the town historian.
The Mineville School, with the nickname Red Flames, served students from 1906 until the 1968 merger. It utilized Memorial Hall, also known as the VFW, for its gym, kitchen dining area and some classrooms.
The Moriah School, with the nickname Green Raiders, served students from 1837 until the 1968 merger.
"The bells were used to start the school day and call students in from recess (lunch)," Mildon said. "These bells were used because students and staff could not hear the inside bells if they were out on the playground or sitting out on school grounds.
"The bell from Moriah High was also used to alert the firemen and community when there was a fire," she added.
Vote on this Story by clicking on the Icon