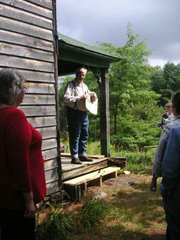 Historical Society schedules talk
ATHOL — David Newkirk and John Parker, both with longstanding ties to Thurman community, will present an illustrated program of local history at 7 p.m. Tuesday, Sept. 3, at Thurman Town Hall.
This is a free presentation and meeting of the John Thurman Historical Society. It is open to the public, who are urged to come share memories that may unlock the history of some unidentified local photographs. For details, call 623-9305 or see: www.persisgranger.com.
Volunteers sought for Garage Sale
The Warrensburg Chamber of Commerce is holding its 23rd annual World's Largest Garage Sale on the weekend of Oct. 5 and Oct. 6.
Those who can volunteer for several hours on Friday from 5 to 8 p.m. to guide vendors to their spaces, or work in a food booth, are asked to call Nancy at the Chamber at 623-2161, or Lynn at 744-3532.
Vendor spaces are still available.
Pianist Pandolfi slated at The Sembrich
The Sembrich Opera Museum & Studio of Bolton Landing Sembrich ends season of classical music concerts with a recital at 7:30 p.m. Saturday Aug. 31 by acclaimed pianist Thomas Pandolfi. The concert features Liszt's transcriptions of Verdi and Wagner. Admission is $30. Call the museum for details.
Your news is important to readers!
Keep your news coming — keep us informed about community events, church and club activities, as well as news tips, or anything you'd like us to look into. Feel free to contact me with community happenings, or items you would like to see covered.
To have an upcoming event publicized, call me on my cell phone at 744-3532 or email me at: mrs.butterfly-10@hotmail.com about three weeks prior to the event. Email is definitely preferred. Help keep our community informed.
Vote on this Story by clicking on the Icon