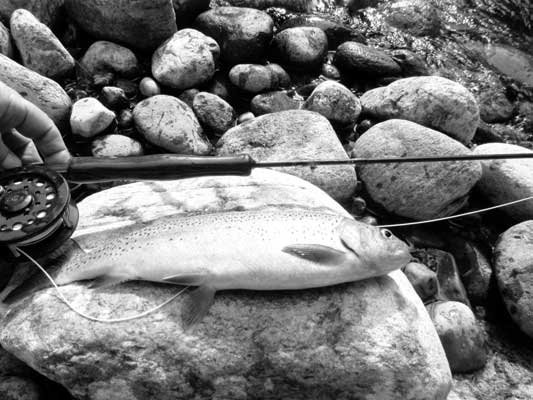 "She simply won't let me leave," I remarked to no one in particular, "Which is probably a good thing."
I grabbed my rod from the streamside and as I turned to head back up the hill, the sound of the slightest splash caught my ear. Then there was another, and then some more!

At the head of the big pool, I could see small, silvery fish that were attempting to navigate their way over the tall falls.
For a moment, I sat on a streamside boulder and simply stared. I was transfixed by the audacity of the diminutive salmon as they sought to answer an instinctive urge to complete an upstream migration completely driven by their genes.
As tiny fry, the silvery marvels were stocked in the headwaters of the brook, and unbeknownst to them, there was no real need for them to return to breed.
If they failed to complete their genetic mission, the DEC would still continue to stock many more of their kind.
Obviously, nobody bothered to tell the salmon about the situation, and as a result, they continued to leap into the falls in contemplation of making it to the big show.
I knew dinner was nearing the table at home and surely, I should go. I'd had my fun for the day, and I know a busman's holiday should never be overdone.

But retreat as I may, my feet simply couldn't move. I stood transfixed at the sight of salmon leaping into the air, despite being pounded back into the holding pool.

"What the hell, I'll take one last cast and then get out of here," which I did. And as my line neared the falls, a slender, silver missile took the fly right out of the air. Carefully, I released it up above the falls.
Joe Hackett is a guide and sportsman residing in Ray Brook. Contact him at brookside18@adelphia.net.
Vote on this Story by clicking on the Icon